Results / Rutland Skiff Open Rutland SC - 04/03/2023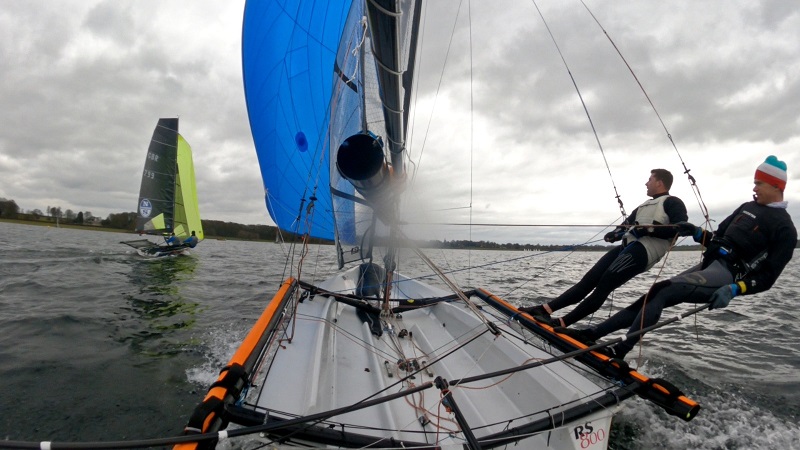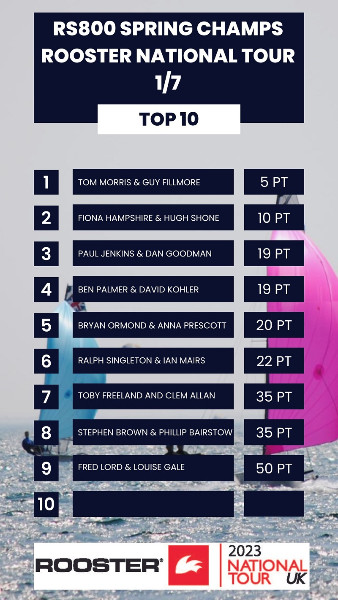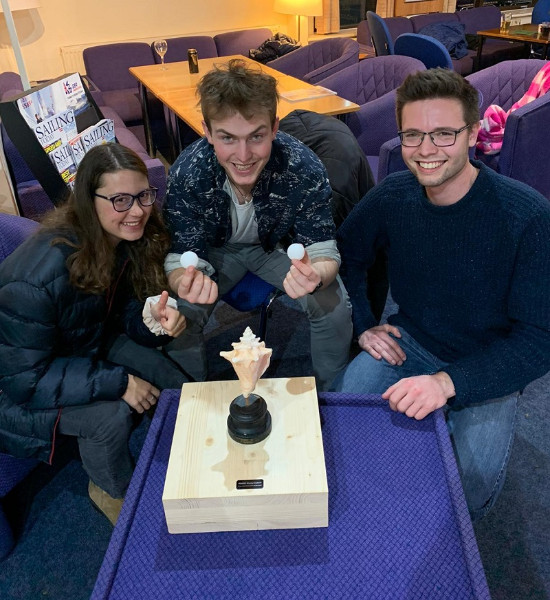 Congrats to RS800 winners Tom and Guy and RS700 winner Pete Purkiss
The RS700s raced in the mixed fleet. Pete Purkiss was first RS700, second went to Paul Warren, and third to Guy Boullenger.
RS800 extracted results thanks to Hugh Shone. Mixed fleet results thanks to Rutland SC.
RS800 Rooster National Tour Event Number One: Spring Championship at Rutland Skiff Open 4-5 March 2023
An enthusiastic fleet of RS800s coming from as far as Cornwall met at Rutland for Round One of the Rooster National Tour at the Rutland Skiff Open. Last year's winners Fred and Louise couldn't defend the title due to car trouble. European and National champs Tom Morris and Guy Fillmore's presence meant that the battle was likely for second place. Luckily for crews, the wind was much better than forecast both days allowing legs to be stretched. There was even talk of cunningham being applied, even if it was mostly about popping battens in our boat.
Two boats managed to start race one a minute early when not paying attention to flags. Unfortunately a U flag was in effect which also caught Stephen Brown and Philip Bairstow (1241) when sailing back to the start area. Toby Freeland and Clement Allan (862) were caught out the same way on Sunday when late for the start, one of the issues with not using P flag. Everyone still raced, it was way too cold to sit around and watch. Fiona Hampshire and Hugh Shone (1231) ironically wearing Hawaiian shirts (over the top of the contents of their kit bags and completing the look with bank robber balaclava) were the only ones to take a race win from Tom and Guy (1144). But the real battle was for third place and the honour of writing the report, with the next four boats finishing within four points after six races.
After Saturday's three races Ralph Singleton and Ian Mairs (1166) were comfortably in third place, with Bryan Ormond and Anna Prescott (820) in fourth. I haven't mentioned that we also had excellent coach Will Crocker on Saturday watching the racing and giving advice in between races. I remember being told the same things last time. Will made us practice and he was right too, we even remembered some of it during the racing so maybe he won't have to tell me a third time. I wouldn't bet on it though. Unfortunately the memory card Will was using corrupted so we had more verbal feedback and watched Ben and David (1008) lose a tiller extension on his GoPro.
Rutland put on a fantastic meal followed by an RS800-led beverage pong competition. Most of the RS800 sailors had badly estimated their abilities and one by one the teams lost to the other fleets. However Toby, Clement and Alex excelled to win the highly sought after "Social Conch" trophy at their first event.
On their victory, Alex said "we're glad to see months of training have paid off, and our finely honed ping pong ball throwing skills are being recognised for such a prestigious trophy as the Social Conch."
We consoled ourselves with beer and thoughts that at least we had the superior boats. We must have consoled ourselves a bit too much because the bar took record takings.
With five knots forecast we were all smiles when the weather station was reporting double that on Sunday morning although the five degrees might have been correct though. Three great races followed. Fiona and Hugh secured second place overall and left the fleet to battle for the minor placings. This was decided in the last run of the last race which was a cracker. Bryan and Anna led the fleet off to the right with impressive pace – there's life in the old boats! Tom and Guy went left with Paul Jenkins and Dan Goodman (1188) and were well back. It was both awesome and a bit scary how Tom and Guy worked their way through the fleet to a comfortable win while Paul and Dan just pipped Ralph and Ian at the finish to move from fifth to third place overall, the racing was that tight.
It was a fantastic opening event for the RS800 Rooster National Tour. Thank you Rutland Sailing Club. And thank you to Rooster our National Tour sponsor. Coming up there's the France Skiff Open at Easter, training/racing at Hayling 15-16 April, Rooster National Tour event number two at Stokes Bay 29-30 April and the Europeans in Garda in only three months! See you on the water!
By Dan Goodman
Up in Y&Y here
Photos thanks to RS800 sailors
| | | | | | | | | | | | | | |
| --- | --- | --- | --- | --- | --- | --- | --- | --- | --- | --- | --- | --- | --- |
| Rank | Helm | Crew | Sail No | Sailing Club | Fleet | Race 1 | Race 2 | Race 3 | Race 4 | Race 5 | Race 6 | Total | Nett |
| 1 | Tom Morris | Guy Fillmore | 1144 | HISC | Platinum | 1 | 2 | 1 | 1 | 1 | 1 | 7 | 5 |
| 2 | Fiona Hampshire | Hugh Shone | 1231 | Swanage SC | Platinum | 2 | 1 | 2 | 2 | 3 | DNC 10 | 20 | 10 |
| 3 | Paul Jenkins | Daniel Goodman | 1188 | Eastbourne/QMSC | Platinum | UFD 10 | 5 | 4 | 4 | 2 | 4 | 29 | 19 |
| 4 | Ben Palmer | David Kohler | 1008 | HISC | Platinum | UFD 10 | 6 | 3 | 3 | 4 | 3 | 29 | 19 |
| 5 | Bryan Ormond | Anna Prescott | 820 | QMSC | Gold | 4 | 4 | 6 | 5 | 5 | 2 | 26 | 20 |
| 6 | Ralph Singleton | Ian Mairs | 1166 | Restronguet SC | Gold | 3 | 3 | 5 | 6 | 6 | 5 | 28 | 22 |
| 7 | Toby Freeland | Clement Allan | 862 | QMSC | Silver | 5 | 8 | 8 | UFD 10 | 7 | 7 | 45 | 35 |
| 8 | Stephen Brown | Philip Bairstow | 1241 | Derwent/Ullswater | Silver | UFD 10 | 7 | 7 | 7 | 8 | 6 | 45 | 35 |
| 9 | Fred Lord | Louise Gale | 1224 | Carsington | Gold | DNC 10 | DNC 10 | DNC 10 | DNC 10 | DNC 10 | DNC 10 | 60 | 50 |
RSC Skiff Open 2023
Rutland Sailing Club
Overall
| Rank | Fleet | Class | Sail number | Made for | Crew Name | PY | R1 | R2 | R3 | R4 | R5 | R6 | Total | Nett |
| --- | --- | --- | --- | --- | --- | --- | --- | --- | --- | --- | --- | --- | --- | --- |
| 1st | RS 800 Fleet | RS 800 | 1144 | Thomas Morris | Guy Fillmore | 799 | 1 | 4 | 2 | (9) | 1 | 4 | 21 | 12 |
| 2nd | RS 800 Fleet | B14 | 799 | Mark Barnes | Joshua Wilce | 860 | 2 | 1 | 1 | 3 | (9) | 7 | 23 | 14 |
| 3rd | Mixed Fleet | Musto Skiff | 624 | Eddie Bridle | | 849 | 6 | 5 | (7) | 1 | 7 | 2 | 28 | 21 |
| 4th | Mixed Fleet | Musto Skiff | 639 | Danny Boatman | | 849 | 8 | 3 | (9) | 6 | 5 | 1 | 32 | 23 |
| 5th | Mixed Fleet | Musto Skiff | 637 | Bill Maughan | | 849 | 7 | (14) | 8 | 7 | 3 | 3 | 42 | 28 |
| 6th | Mixed Fleet | Musto Skiff | 633 | Ben Clegg | | 849 | 4 | 6 | 5 | 11 | 4 | (35 OCS) | 65 | 30 |
| 7th | RS 800 Fleet | RS 800 | 1231 | Hugh Shone | Hugh Shone | 799 | 3 | 2 | 4 | 15 | 8 | (35 DNC) | 67 | 32 |
| 8th | Mixed Fleet | RS 700 | 1042 | Peter Purkiss | | 845 | 11 | 7 | 12 | (20) | 2 | 9 | 61 | 41 |
| 9th | Mixed Fleet | Musto Skiff | 601 | Mike Matthews | | 849 | 9 | 13 | (16) | 4 | 11 | 5 | 58 | 42 |
| 10th | Mixed Fleet | 4000 | 4588 | John Reynolds | Fran Howell | 917 | 13 | 18 | 6 | 2 | (19) | 11 | 69 | 50 |
| 11th | Mixed Fleet | Cherub | 3212 | Paul Croote | Andrew Whapshott | 890 | 12 | (16) | 14 | 10 | 12 | 6 | 70 | 54 |
| 12th | RS 800 Fleet | B14 | 795 | Amir Shamsuddin | Nick Pye | 860 | 5 | 12 | 3 | 17 | (23) | 19 | 79 | 56 |
| 13th | Mixed Fleet | 4000 | 4522 | Oliver Bartolo | | 917 | (17) | 17 | 13 | 8 | 17 | 16 | 88 | 71 |
| 14th | Mixed Fleet | 4000 | 4546 | Tim Litt | Alex Litt | 917 | 14 | 22 | 15 | 5 | (25) | 17 | 98 | 73 |
| 15th | RS 800 Fleet | RS 800 | 1188 | Daniel Goodman | Paul Jenkins | 799 | (35 UFD) | 10 | 25 | 18 | 6 | 14 | 108 | 73 |
| 16th | RS 800 Fleet | RS 800 | 820 | Anna Prescott | Anna Prescott | 799 | 21 | 9 | (27) | 22 | 16 | 8 | 103 | 76 |
| 17th | RS 800 Fleet | RS 800 | 1008 | Ben Palmer | David Kohler | 799 | (35 UFD) | 11 | 22 | 16 | 14 | 13 | 111 | 76 |
| 18th | Mixed Fleet | Vortex | 2018 | Jonathan Carter | | 932 | 15 | (23) | 10 | 19 | 15 | 18 | 100 | 77 |
| 19th | Mixed Fleet | Musto Skiff | 535 | David Annan | | 849 | 18 | 15 | 19 | 13 | (21) | 12 | 98 | 77 |
| 20th | RS 800 Fleet | RS 800 | 1166 | Ralph Singleton | Ian Mairs | 799 | 10 | 8 | (26) | 23 | 22 | 15 | 104 | 78 |
| 21st | Mixed Fleet | 4000 | 4343 | Neil Heffernan | No Match | 917 | 16 | (21) | 11 | 12 | 20 | 20 | 100 | 79 |
| 22nd | Mixed Fleet | Musto Skiff | 432 | Jamie Freeman | | 849 | 25 | (35 RET) | 18 | 14 | 18 | 10 | 120 | 85 |
| 23rd | Mixed Fleet | Cherub | 3216 | Jamie Pearson | Martyn Denchfield | 890 | 24 | 19 | 17 | 24 | 13 | (35 DNC) | 132 | 97 |
| 24th | Mixed Fleet | Cherub | 3215 | Alex Harris | Jonny OConnor | 890 | 19 | 28 | (35 DNC) | 27 | 10 | 35 DNC | 154 | 119 |
| 25th | RS 800 Fleet | RS 800 | 1241 | Philip Bairstow | Philip Bairstow | 799 | (35 UFD) | 25 | 28 | 25 | 27 | 21 | 161 | 126 |
| 26th | Mixed Fleet | RS 700 | 982 | Paul Warren | | 845 | 27 | 27 | 23 | 26 | (28) | 23 | 154 | 126 |
| 27th | Mixed Fleet | 29er | 157 | Dylan Beatty | Harry Rowlands | 903 | 23 | 26 | (35 RET) | 21 | 24 | 35 RET | 164 | 129 |
| 28th | Mixed Fleet | Musto Skiff | 5 | Andrew Whittle | | 849 | 20 | 20 | 21 | (35 RET) | 35 DNC | 35 DNC | 166 | 131 |
| 29th | RS 800 Fleet | RS 800 | 862 | Toby Freeland | Clement Allan | 799 | 28 | 30 | 29 | (35 UFD) | 26 | 22 | 170 | 135 |
| 30th | Mixed Fleet | RS 700 | 798 | Guy Boullenger | | 845 | 22 | 24 | 20 | (35 DNC) | 35 DNC | 35 DNC | 171 | 136 |
| 31st | Mixed Fleet | Cherub | 2698 | Nathan McGrory | Jimmy Ruddiman | 890 | 26 | 29 | 24 | 28 | (35 DNC) | 35 DNC | 177 | 142 |
| 32nd | Mixed Fleet | 4000 | 4095 | NicK Richardson | Liam Murphy | 917 | 29 | (35 RET) | 30 | 35 NSC | 35 DNC | 35 DNC | 199 | 164 |
| 33rd | Mixed Fleet | RS 700 | 1035 | Adam Plhon | | 845 | (35 DNC) | 35 DNC | 35 DNC | 35 DNC | 35 DNC | 35 DNC | 210 | 175 |
| 33rd | RS 800 Fleet | RS 800 | 1224 | Frederick Lord | Louise Gale | 799 | (35 DNC) | 35 DNC | 35 DNC | 35 DNC | 35 DNC | 35 DNC | 210 | 175 |
Sailwave Scoring Software 2.29.0
www.sailwave.com