RS800 EuroCup Series 2018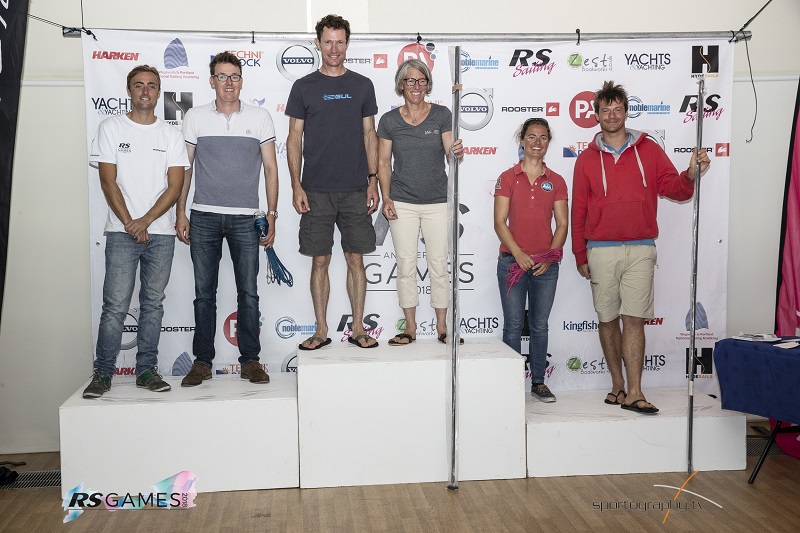 RS800 Eurocup 2018 Overall
This year the RS800 class had probably its most international Eurocup series, with 19 teams attending at least two of the three events (up from four last year) and a record number of continental boats making the pilgrimage to Weymouth for the massive RS Games in August. In total 59 teams from six nations competed for this prestigious travellers' trophy. The French teams in particular have grown in numbers and depth of talent, with two in the top five overall.
Kicking off with the French Open Skiff regatta in Lac du Der at Easter, followed by the European Championships at Carnac and the UK Nationals in Weymouth, the 2018 series has been blessed with great sailing conditions and a strong turnout at all the events.
Lac du Der, in the Champagne region of France, brought RS800s together from Germany, Switzerland, Luxembourg, Holland, France and the UK for three great days of racing and camaraderie in whatever languages we could speak. The format there is handicap racing with skiffs of all types, swelling the 14 RS800s to a 60-boat fleet. This is a great way for newcomers to the international racing scene to make new friends and find out what RS800 sailing is all about.
The Europeans in May provided classic Carnac conditions, with sea breezes from light to feisty, sunshine and of course great Breton hospitality. By the time the UK Nationals came round in August, after weeks of light weather the fleet was itching for some big breeze again and Weymouth Bay certainly delivered the goods, along with great socials ashore in the whirlwind of classes that made the RS Games one of the biggest sailing events in history.
Overall, Luke and Emma McEwen put together a solid series to win with an event to spare. The fight for the rest of the podium was tight, with just two points separating the next three boats. Previous European champions Phil Walker and John Mather nearly threw it away by missing the first day of the UK Nationals but sailed strongly to overtake Gilles Peeters and Heloise Baize/Mateo Lavauzelle for second place. 49er youth star Rory Hunter showed how it's done by borrowing two boats each over 17 years old and sailing with two different crews (Chris Feibusch and FX squad sailor Steph Orton) to tie on points with Peeters, only losing third place on the tie break. RS Sailing donated great prizes which were presented to the top three boats at the end of the RS Games.
The 2019 Eurocup series follows the same three-event format starting with Lac du Der at Easter again, but this time going to Lake Garda for the Europeans in July and Eastbourne for the UK Nationals in September, where the class will be celebrating its 20th anniversary.
Report by Luke McEwen
Prize winners photo thanks to Sportography.com
Rank
Sail No
Class
Nationality
Helm
Crew
Club
French Open Skiff
Carnac Europeans
RS Games
UK Nationals
Total
Nett
1
1220
RS800
GBR
Luke MC EWEN
Emma MC EWEN
Royal Lymington YC
1
1
2
4
2
2
1207
RS800
GBR
PHIL WALKER
JOHN MATHER
HISC
60
2
4
66
6
3
1218
RS800
FRA
GILLES PEETERS
HELOISE BAIZE / Mateo LAVAUZELLE
S N LARMOR PLAGE
2
6
17
25
8
4
961/885
RS800
GBR
RORY HUNTER
CHRIS FEIBUSCH / Stephanie Orton
Arran YC
60
5
3
68
8
5
1161
RS800
FRA
JEANLOUIS TREGUIER
CAMILLE DONNAT BART
C.N. VIRY CHATILLON
3
9
22
34
12
6
1225
RS800
GBR
STEPHEN COCKERILL
SARAH COCKERILL
Stokes Bay SC
60
3
13
76
16
7
1228
RS800
GBR
ANDY JEFFRIES
ALLYSON JEFFRIES
Eastbourne Soverign SC
60
4
14
78
18
8
882
RS800
FRA
JEREMIE BRAU
LUDOVIC ROBLIN
S R ROCHELAISES
5
14
60
79
19
9
1194
RS800
GBR
JOE JOYNER
WILL BROOM
Lyme Regis SC
60
11
11
82
22
10
1230
RS800
GBR
CHRISTINA HANDASYDE DICK
ANDREW HANDASYDE DICK
Itcheror SC
60
7
20
87
27
12
1188
RS800
GBR
DANIEL GOODMAN
DEBBIE CLARK
Stokes Bay SC
60
8
21
89
29
11
1159 / 12
RS800
SUI
LAURENT MULLER
AXEL VAN DE VYVERE
ASAH Section Voile
8
21
60
89
29
13
1119 / 841
RS800
FRA
FRANCOIS VAUVRAY / MORGANN BLAYO
MORGANN BLAYO / DUMONT THÃOPHIL
CRNG DE GRANVILLE / PORH LOEIZ SKIFF
9
22
60
91
31
14
877
RS800
LUX
Pierre KIEFFER
André FRIEDRICH / Yves STEFFEN
Yves STEFFEN
14
20
60
94
34
15
1121
RS800
GBR
BEN CLEGG
ABIGALE EMBSER-KA
Brightlingsea SC
60
12
26
98
38
16
900
RS800
GBR
ANDY TARBOTON
LIZZIE SHAWCROFT / Harry Kennedy
Stokes Bay SC
60
10
30
100
40
17
1066/1182
RS800
NED
Michiel GEERLING
Henk DUIT / Hilde Geerling
Braassem
11
60
32
103
43
18
1101
RS800
FRA
ALEXANDRE EMANUEL
FRANCK PERNET / Quentin Milleret
YC Grenoble Chara.
13
60
35
108
48
19
1157
RS800
GBR
KATHARINE MARTIN / Ian Martin
CHRIS MARTIN
60
23
27
110
50
20
1144
RS800
GBR
Tom Morris
Guy Fillmore
HISC
60
60
1
121
61
21
841
RS800
FRA
MATEO LAVAUZELLE
QUENTIN MILLERET
Y C CARNAC / C.N. VIRY CHATILLON
4
60
60
124
64
22
1222
RS800
GBR
Paul Jenkins
Peter Jenkins
Eastbourne Sovereign SC
60
60
5
125
65
23
1155
RS800
FRA
LAURENT THOUVENIN
OLIVIA COINDREAU
Y C TOULON
6
60
60
126
66
24
1221
RS800
GBR
John Gimson
Anna Burnet
Rudyard Lake SC/Royal Northern & Clyde Y
60
60
6
126
66
25
1063
RS800
FRA
CEDRIC FRABOULET
YANNICK POURLIER
Y C CARNAC
7
60
60
127
67
26
1219
RS800
GBR
Pete Barton
Chris Feibusch
Lymington Town SC
60
60
7
127
67
27
1132
RS800
GBR
Simon Hiscocks
Ellie Aldridge
WPNSA
60
60
8
128
68
28
1131
RS800
GBR
Maddy Anderson
Matt Reid
Brightlingsea and Spinnaker SCs
60
60
9
129
69
30
1203
RS800
GBR
Tim Gratton
Fiona Hampshire
St Catharines College SC
60
60
10
130
70
29
1182
RS800
NED
Sander VOGELAAR
Jody DE JAGER
10
60
60
130
70
32
1231
RS800
GBR
Hugh Shone
Hannah Tattersall
Castle Cove SC
60
60
12
132
72
31
960
RS800
GER
Tobias WASHMAN
Marleen STRATHOFF
12
60
60
132
72
33
1198
RS800
GBR
ALEX BENFIELD
NICK IRELAND
Stokes Bay SC
60
13
60
133
73
34
1224
RS800
GBR
FREDERICK LORD
LOUISE GALE
Carsington SC
60
15
60
135
75
35
1232
RS800
GBR
Cameron Moss
Darrol Moss
Lyme Regis SC
60
60
15
135
75
36
1195
RS800
GBR
GRAHAM WILLIAMSON
JEREMY WILLIAMSON
HISC
60
16
60
136
76
37
1158
RS800
GBR
Edward Norbury
Charlie Hutchings
Warsash SC
60
60
16
136
76
38
897
RS800
FRA
Estelle GRECK
Pierrick FOLLEZOU
E V CATASCHOOL / S N LARMOR PLAGE
60
17
60
137
77
39
1211
RS800
GBR
PHILIP GLADMAN
NATASHA GLADMAN
Itcheror SC
60
18
60
138
78
40
1166
RS800
GBR
Ralph Singleton
Sophie Singleton
Burghfield SC
60
60
18
138
78
41
981
RS800
FRA
MARK JOHNSON
LEO DEREGNIEAUX
60
19
60
139
79
42
1204
RS800
GBR
Martin Orton
Ian Brooks
Chichester YC
60
60
19
139
79
43
1043
RS800
GBR
Chris Dodd
Bryony Meakins
Rutland SC
60
60
23
143
83
44
1202
RS800
GBR
Andrew Blundell
Maddie Fenner
Warsash SC
60
60
24
144
84
45
1171
RS800
GBR
James Penty
Edward Grayson
Beaver SC
60
60
25
145
85
46
1184
RS800
GBR
Michael MacMillan
Jamie Macmillan
Loch Earn SC
60
60
28
148
88
47
1164
RS800
GBR
Russ Gibbs
Lucy Loughton
Starcross YC
60
60
29
149
89
48
949
RS800
GBR
Ian Jubb
Bonnie Moody
HISC
60
60
31
151
91
49
1157
RS800
GBR
Chris Martin
Megan Brickwood
60
60
33
153
93
50
939
RS800
GBR
Daniel Nickalls
Jack Wardell
Marconi SC
60
60
34
154
94
51
982
RS800
GBR
Neal Gibson
Keith Macey
Downs SC
60
60
36
156
96
52
1064
RS800
GBR
Chris Haworth
Stuart Aston
60
60
37
157
97
53
1140
RS800
GBR
John McKelvie
David Jessop
Strangford Lough YC
60
60
38
158
98
54
1151
RS800
GBR
Hannah Peters
Mark Lees
Hollyhead SC
60
60
39
159
99
55
1128
RS800
GBR
Ciaran Hurney
Mel Kwan
Oxford SC
60
60
40
160
100
56
913
RS800
GBR
Adrian Howe
Fenella Williams
Oxford SC
60
60
41
161
101
57
1189
RS800
GBR
James Green
Simon Hall
Beer SC
60
60
42
162
102
58
1111
RS800
NED
Marianne Pijlman
Tijmen Pijlman
WV Monnickendam
60
60
43
163
103
59
919
RS800
GBR
Charlie Ellse
Ollie Holmes
Restronguet SC
60
60
44
164
104