RS800 Rooster National Tour 2019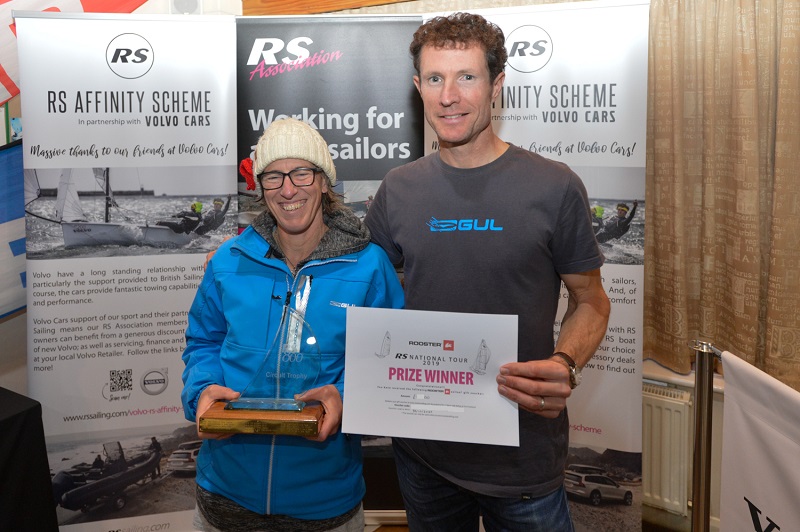 Congratulations to our all our sailors who took part in the RS800 Rooster National Tour. Fifty five boats competed including 21 new teams! We toured the UK from Rutland, to Stokes Bay, Hayling Island, Lymington, Marconi SC, Lyme Regis, Grafham and finally Rutland again.
Winners for 2019 are Luke and Emma McEwen from Royal Lymington YC who did an excellent job retaining their National Tour champion status for the fouth year running.
Second place goes to Ralph and Sophie Singleton from Burghfield SC.
In third place are Cameron and Darrol Moss from Lyme Regis SC.
Thank you very much to generous tour sponsor Rooster for providing the smashing signal blue special edition caps for event winners, mid-fleet heroes and endeavour sailors.
Let's take inspiration from such good turnout in 2019 and look to make 2020 even bigger and better!
Thank you Emma McEwen for compiling the results.
| | | | | | | | | | | | | | | | | | |
| --- | --- | --- | --- | --- | --- | --- | --- | --- | --- | --- | --- | --- | --- | --- | --- | --- | --- |
| | | | | | | | | | | | | | | | | | |
| | Rank | Sail No | Class | Helm | Crew | Club | Rutland | Stokes Bay | HISC | Lymington | EC Piers | Lyme | Grafham | Rutland | Total | Nett after 8 | Rooster Prize |
| | 1 | 1220 | RS800 | Luke McEwen | Emma McEwen | Royal Lymington YC | 1 | 1 | 2 | 1 | 56 | 56 | 2 | 1 | 120 | 6 | Rutland 1st |
| | 2 | 1166 | RS800 | Ralph Singleton | Sophie Singleton / Oliver Singleton | Burghfield SC | 2 | 5 | 11 | 2 | 56 | 6 | 4 | 56 | 142 | 19 | Rutland 2nd (mid fleet hero) |
| | 3 | 1232 | RS800 | Cameron Moss | Darrol Moss / Jake Stow | Lyme Regis SC | 11 | 3 | 6 | 11 | 56 | 2 | 7 | 2 | 98 | 20 | Lyme 2nd |
| | 4 | 1188 | RS800 | Dan Goodman | Debbie Clark | Stokes Bay SC | 8 | 8 | 12 | 8 | 56 | 5 | 6 | 5 | 108 | 32 | Lyme Endeavour |
| | 5 | 1124/11 | RS800 | Robert Gullan | Calum Healey / Guy Fillmore / Mari Shepherd | Hayling Island SC | 56 | 9 | 20 | 4 | 56 | 1 | 9 | 56 | 211 | 43 | LTSC 1st |
| | 6 | 1043 | RS800 | Chris Dodd | Bryony Meakins | Rutland SC | 10 | 7 | 13 | 56 | 56 | 56 | 8 | 6 | 212 | 44 | |
| | 7 | 1231 | RS800 | Hugh Shone | Hannah Tattersall / Fiona Hampshire | Swanage SC | 3 | 2 | 56 | 3 | 56 | 56 | 56 | 3 | 235 | 67 | SBSC 2nd |
| | 8 | 1238/1128 | RS800 | Ciaran Hurney | Mel Kwan | Oxford SC | 12 | 19 | 18 | 12 | 56 | 56 | 19 | 11 | 203 | 72 | Rutland Endeavour |
| | 9 | 1157 | RS800 | Chris Catt | Chris Martin | Netley SC | 56 | 56 | 8 | 5 | 56 | 3 | 5 | 56 | 245 | 77 | |
| | 10 | 913 | RS800 | Adrian Howe | Fenella Williams | Oxford SC | 56 | 21 | 21 | 13 | 4 | 56 | 21 | 56 | 248 | 80 | ECPR Endeavour |
| | 11 | 1224 | RS800 | Fred Lord | Louise Gale | Carsington SC | 56 | 13 | 10 | 7 | 56 | 56 | 14 | 56 | 268 | 100 | HISC Mid Fleet Hero |
| | 12 | 1225 | RS800 | Steve Cockerill | Sarah Cockerill | Stokes Bay SC | 6 | 4 | 5 | 56 | 56 | 56 | 56 | 56 | 295 | 127 | |
| | 13 | 1203 | RS800 | Tim Gratton | Fiona Hampshire / Grace Fell | St Catherines College SC | 4 | 6 | 56 | 56 | 56 | 56 | 11 | 56 | 301 | 133 | |
| | 14 | 968 | RS800 | Gavin Page | Luke Whyburd | Stokes Bay SC | 56 | 20 | 17 | 56 | 3 | 56 | 56 | 56 | 320 | 152 | ECPR Mid fleet |
| | 15 | 1198 | RS800 | Alex Benfield | Nick Ireland | Stokes Bay SC | 56 | 14 | 16 | 56 | 56 | 56 | 17 | 56 | 327 | 159 | |
| | 16 | 1144 | RS800 | Thomas Morris | Guy Fillmore / Elliott Wells | HISC | 56 | 56 | 1 | 56 | 56 | 56 | 1 | 56 | 338 | 170 | HISC 1st |
| | 17 | 1171 | RS800 | James Penty | Eddie Grayson | Beaver SC | 56 | 56 | 56 | 56 | 56 | 56 | 3 | 4 | 343 | 175 | Inlands 3rd |
| | 18 | 1207 | RS800 | Phil Walker | John Mather | HISC | 5 | 56 | 3 | 56 | 56 | 56 | 56 | 56 | 344 | 176 | |
| | 19 | 834 | RS800 | Chris Matthews | Ali Hinds | Brightlingsea SC | 56 | 56 | 56 | 10 | 1 | 56 | 56 | 56 | 347 | 179 | ECPR 1st |
| | 20 | 1008 | RS800 | Ben Palmer | Amy Seabright / Claire Walsh | HISC | 56 | 56 | 56 | 56 | 56 | 56 | 12 | 7 | 355 | 187 | |
| | 21 | 1218 | RS800 | George Richards | Greg Brown | Lymington Town SC | 56 | 56 | 56 | 9 | 56 | 56 | 56 | 10 | 355 | 187 | |
| | 22 | 885 | RS800 | Chris Feibusch / Rory Hunter | Nick Jerkins / Chris Feibusch | Hayling Island SC | 9 | 56 | 14 | 56 | 56 | 56 | 56 | 56 | 359 | 191 | |
| | 23 | 1138 | RS800 | Honor Fell | Robbie Gilmore | Queen Mary SC | 56 | 17 | 56 | 56 | 56 | 56 | 13 | 56 | 366 | 198 | |
| | 24 | 1178 | RS800 | Nick MILLER | Jen MILLER | Marconi Sailing Club | 56 | 56 | 56 | 56 | 2 | 56 | 56 | 56 | 394 | 226 | |
| | 25 | 1189 | RS800 | James Date | James Green | Beer SC | 56 | 56 | 56 | 56 | 56 | 4 | 56 | 56 | 396 | 228 | Lyme mid fleet hero |
| | 26 | 1234 | RS800 | Frances Partington | Tom Partington | HISC | 56 | 56 | 4 | 56 | 56 | 56 | 56 | 56 | 396 | 228 | |
| | 27 | 1503 | RS800 | Tristan WALKER-HUTT | Tom CLAYTON | Marconi Sailing Club | 56 | 56 | 56 | 56 | 5 | 56 | 56 | 56 | 397 | 229 | |
| | 28 | 1057 | RS800 | Mark OAKEY | Emily ROBERTSON | Itchenor SC | 56 | 56 | 56 | 56 | 6 | 56 | 56 | 56 | 398 | 230 | |
| | 29 | 1219 | RS800 | Peter Barton | Abby Keightley-Hanson | Lymington Town SC | 56 | 56 | 56 | 6 | 56 | 56 | 56 | 56 | 398 | 230 | LTSC Mid Fleet Hero |
| | 30 | 868 | RS800 | Sophia SOUTHGATE | Pat SHAW | Marconi Sailing Club | 56 | 56 | 56 | 56 | 7 | 56 | 56 | 56 | 399 | 231 | |
| | 31 | 1164 | RS800 | Russ Gibbs | Jamie Dawson | Starcross YC | 56 | 56 | 56 | 56 | 56 | 7 | 56 | 56 | 399 | 231 | |
| | 32 | 1222 | RS800 | Paul Kenkins | Geoff Jenkins | WSC | 7 | 56 | 56 | 56 | 56 | 56 | 56 | 56 | 399 | 231 | |
| | 33 | 1228 | RS800 | Andy Jeffries | Allyson Jeffries | Eastbourne Soverign SC | 56 | 56 | 7 | 56 | 56 | 56 | 56 | 56 | 399 | 231 | |
| | 34 | 1198 | RS800 | Josh Adams | Jon Crawford | UBSC | 56 | 56 | 56 | 56 | 56 | 56 | 56 | 8 | 400 | 232 | |
| | 35 | 1194 | RS800 | Joe Joyner | Will Broom | LRSC | 56 | 56 | 56 | 56 | 56 | 8 | 56 | 56 | 400 | 232 | |
| | 36 | 1014 | RS800 | Oliver Groves | Sam Waller | Beaver SC | 56 | 56 | 56 | 56 | 56 | 56 | 56 | 9 | 401 | 233 | |
| | 37 | 1135 | RS800 | Ellen Main | Cameron Barr | Netley SC | 56 | 56 | 56 | 56 | 56 | 9 | 56 | 56 | 401 | 233 | |
| | 38 | 1204 | RS800 | Martin Orton | Ian Brooks / Steph Orton | Chichester YC | 56 | 56 | 9 | 56 | 56 | 56 | 56 | 56 | 401 | 233 | |
| | 39 | 900 | RS800 | Ricky Robinson | Andy Tarboton | Royal Natal YC | 56 | 56 | 56 | 56 | 56 | 56 | 10 | 56 | 402 | 234 | |
| | 40 | 1195 | RS800 | Graham Williamson | Jeremy Williamson | Hayling Island SC | 56 | 10 | 56 | 56 | 56 | 56 | 56 | 56 | 402 | 234 | |
| | 41 | 1196 | RS800 | Andy Smith | Chris Saunders | Stokes Bay SC | 56 | 11 | 56 | 56 | 56 | 56 | 56 | 56 | 403 | 235 | SBSC Mid Fleet Heros |
| | 42 | 1115 | RS800 | Stuart Keegan | Capable Kayleigh | Derwent Reservoir SC | 56 | 56 | 56 | 56 | 56 | 56 | 56 | 12 | 404 | 236 | |
| | 43 | 1200 | RS800 | Richard Smith | Ellie Smith | Wilsonian SC | 56 | 12 | 56 | 56 | 56 | 56 | 56 | 56 | 404 | 236 | |
| | 44 | 919 | RS800 | Joe Gallivan | Will Rushforth | Lymington Town SC | 56 | 56 | 56 | 56 | 56 | 56 | 56 | 13 | 405 | 237 | |
| | 45 | 1000 | RS800 | Julian Bosch | Jeromy Bosch | Grafham SC | 56 | 56 | 56 | 14 | 56 | 56 | 56 | 56 | 406 | 238 | LTSC Endeavour |
| | 46 | 814 | RS800 | Chris Witty | Tom O'Neill | HISC | 56 | 56 | 15 | 56 | 56 | 56 | 56 | 56 | 407 | 239 | |
| | 47 | 1215 | RS800 | Stephen Brown | Phil Bairstow | Ullswater YC | 56 | 15 | 56 | 56 | 56 | 56 | 56 | 56 | 407 | 239 | SBSC Endeavour |
| | 48 | 1239 | RS800 | Michiel Geerling-van Susante | Hilde Geerling-van Susante | WV Braassemermeer | 56 | 56 | 56 | 56 | 56 | 56 | 15 | 56 | 407 | 239 | |
| | 49 | 1156 | RS800 | Mary Rook | Hugh Brayshaw | Weston SC | 56 | 56 | 56 | 56 | 56 | 56 | 16 | 56 | 408 | 240 | |
| | 50 | 1216 | RS800 | Richard Clampett | Grace Clark | Stokes Bay SC | 56 | 16 | 56 | 56 | 56 | 56 | 56 | 56 | 408 | 240 | |
| | 51 | 949 | RS800 | Chubby | Stifflers Mum | HISC | 56 | 56 | 56 | 56 | 56 | 56 | 18 | 56 | 410 | 242 | |
| | 52 | 1126 | RS800 | George Smith | Alice Crick | Bough Beech SC | 56 | 18 | 56 | 56 | 56 | 56 | 56 | 56 | 410 | 242 | |
| | 53 | 1151 | RS800 | Suzy Russell | Matt Haslam | Gurnard SC | 56 | 56 | 19 | 56 | 56 | 56 | 56 | 56 | 411 | 243 | HISC Endeavour |
| | 54 | 924 | RS800 | Simon Horsfield | Amy Hulley | Army Sailing Association | 56 | 56 | 56 | 56 | 56 | 56 | 20 | 56 | 412 | 244 | |
| | 55 | 1186 | RS800 | Paul Blackburn | Phil Burchell | Stokes Bay SC | 56 | 22 | 56 | 56 | 56 | 56 | 56 | 56 | 414 | 246 | |
| | | | | | | | | | | | | | | | | | |