RS800 Rooster National Tour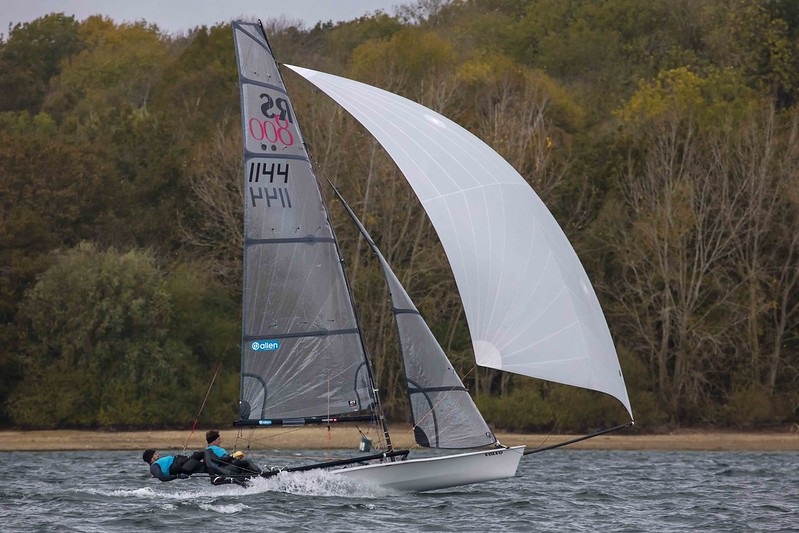 CONGRATULATIONS TO OUR 2021 RS800 ROOSTER NATIONAL TOUR CHAMPIONS TOM MORRIS AND GUY FILLMORE!
We had five events on our 2021 Rooster RS800 National Tour: Totally Stoked at Stokes Bay SC, RS Summer Champs at Royal Torbay YC, Lymington Dinghy Regatta, the Inlands at Grafham Water SC, and the Harken RS End of Seasons Regatta at Rutland SC. 32 boats and 71 sailors have competed.
Let's look forward to another year of great racing at super clubs right across the UK in 2022.
Tour results thanks to Emma McEwen
Photo by Tim Olin
| | | | | | | | | | | | | | |
| --- | --- | --- | --- | --- | --- | --- | --- | --- | --- | --- | --- | --- | --- |
| | | | | | | | | | | | | | |
| | Rank | Sail No | Class | Helm | Crew | Club | Stokes Bay | Torbay | Lymington | Grafham | Rutland | Total | Nett after 5 |
| | 1 | 1144 | RS800 | Thomas Morris | Guy Fillmore | HISC | 5 | 2 | 33 | 1 | 1 | 42 | 4 |
| | 2 | 1220 | RS800 | Luke McEwen | Emma McEwen | Royal Lymington YC | 1 | 1 | 2 | 2 | 3 | 9 | 4 |
| | 3 | 1231 | RS800 | Hugh Shone | Fiona Hampshire / Becky Diamond | Swanage SC | 4 | 9 | 1 | 33 | 2 | 49 | 7 |
| | 4 | 1122 | RS800 | Tom Bucktrout / Robert Loverage | Dom Burke | GWSC | 33 | 33 | 3 | 5 | 6 | 80 | 14 |
| | 5 | 1232 | RS800 | Cameron Moss | Darrol Moss | Lyme Regis SC | 8 | 12 | 33 | 3 | 4 | 60 | 15 |
| | 6 | 1224 | RS800 | Fred Lord | Louise Gale | Carsington SC | 9 | 33 | 4 | 33 | 5 | 84 | 18 |
| | 7 | 846 | RS800 | Joshua Poat | Robbie Cherry / Hattie Field | Chew Valley Lake SC | 33 | 13 | 8 | 13 | 33 | 100 | 34 |
| | 8 | 1215 / 1058 | RS800 | Joseph Bradley | Ben Bradley / Henry Jameson | HISC | 3 | 7 | 33 | 33 | 33 | 109 | 43 |
| | 9 | 1129 | RS800 | Leo Wilkinson / Sam Jones | Sam Jones / Richie Thurlby | Maidenhead SC | 6 | 33 | 5 | 33 | 33 | 110 | 44 |
| | 10 | 1166 | RS800 | Ralph Singleton | Mike Chapman / James Wilkinson | Restronguet SC | 33 | 10 | 33 | 6 | 33 | 115 | 49 |
| | 11 | 1203 | RS800 | Grace Fell | Tim Gratton | Beadnell SC | 33 | 8 | 33 | 10 | 33 | 117 | 51 |
| | 12 | 1222 | RS800 | Paul Jenkins | Peter Jenkins | Eastbourne Sovereign SC | 2 | 33 | 33 | 33 | 33 | 134 | 68 |
| | 13 | 1124 | RS800 | Robert Gullan | Tristan Jaques | HISC | 33 | 3 | 33 | 33 | 33 | 135 | 69 |
| | 14 | 825 | RS800 | James Curtis | Tom Walker | Grafham Water Sailing Club | 33 | 33 | 33 | 4 | 33 | 136 | 70 |
| | 15 | 1207 | RS800 | Phil Walker | John Mather | HISC | 33 | 4 | 33 | 33 | 33 | 136 | 70 |
| | 16 | 1221 | RS800 | Nick Redding | James Grummett | Oxford SC | 33 | 5 | 33 | 33 | 33 | 137 | 71 |
| | 17 | 1057 | RS800 | Mark Oakey | Jamie Pidduck | HISC | 33 | 33 | 6 | 33 | 33 | 138 | 72 |
| | 18 | 1157 | RS800 | Chris Catt | Chris Martin | Netley SC | 33 | 6 | 33 | 33 | 33 | 138 | 72 |
| | 19 | 1014 | RS800 | Bryn Abendstern | Sam McKay | Rutland SC | 33 | 33 | 33 | 33 | 6 | 138 | 72 |
| | 20 | 1188 | RS800 | Debbie Clark | Daniel Goodman | QMSC | 33 | 33 | 33 | 33 | 6 | 138 | 72 |
| | 21 | 814 | RS800 | Ellie Cumpsty | Connor Banks | Stokes Bay SC | 7 | 33 | 33 | 33 | 33 | 139 | 73 |
| | 22 | 913 | RS800 | Adrian Howe | Fenella Williams | Oxford SC | 33 | 33 | 7 | 33 | 33 | 139 | 73 |
| | 23 | 1204 | RS800 | Martin Orton | Ian Brooks | Chichester YC | 33 | 33 | 33 | 7 | 33 | 139 | 73 |
| | 24 | 820 | RS800 | Bryan Ormond | Anna Prescott | Queen Mary SC | 33 | 33 | 33 | 8 | 33 | 140 | 74 |
| | 25 | 985 | RS800 | Stuart Keegan | Sophie Johnston | Derwent Reservoir SC | 33 | 33 | 33 | 8 | 33 | 140 | 74 |
| | 26 | 954 | RS800 | Paul Molesworth | Caroline Harris | Weymouth and Portland | 33 | 33 | 9 | 33 | 33 | 141 | 75 |
| | 27 | 919 | RS800 | Luke Burywood | Rob Baddeley | Stokes Bay SC | 10 | 33 | 33 | 33 | 33 | 142 | 76 |
| | 28 | 968 | RS800 | Chris Haslam | Cliff Haslam | Stokes Bay SC | 10 | 33 | 33 | 33 | 33 | 142 | 76 |
| | 29 | 1065 | RS800 | Robert Dunn | Marina Dunn | Grafham Water Sailing Club | 33 | 33 | 33 | 11 | 33 | 143 | 77 |
| | 30 | 1126 | RS800 | George Smith | Alice Crick | Bough Beech SC | 33 | 11 | 33 | 33 | 33 | 143 | 77 |
| | 31 | 1247 | RS800 | Paul Molesworth | Caroline Harris | Stokes Bay SC | 33 | 33 | 33 | 12 | 33 | 144 | 78 |
| | 32 | 1008 | RS800 | Ben Palmer | Bruna de Queiroz | Hayling Island SC | 33 | 33 | 33 | 14 | 33 | 146 | 80 |
| | | | | | | | | | | | | | |