Results / Development Day Queen Mary SC - 20/11/2022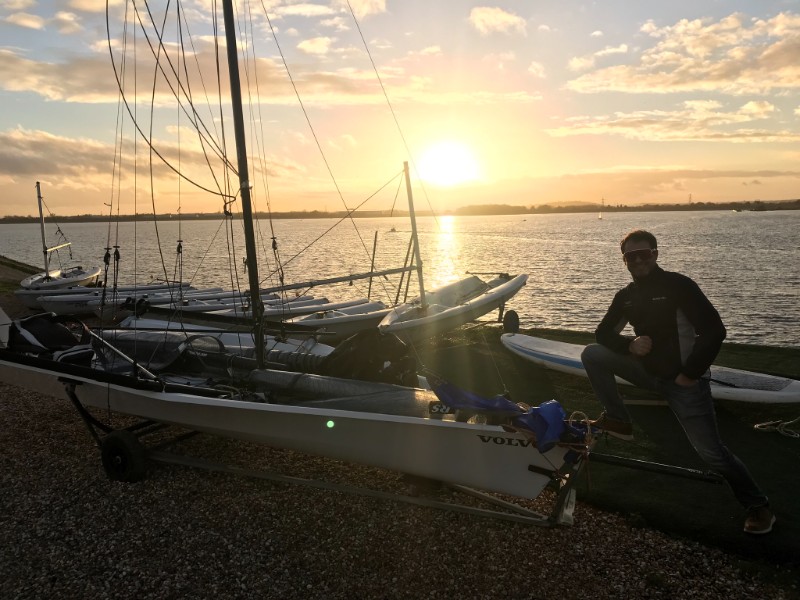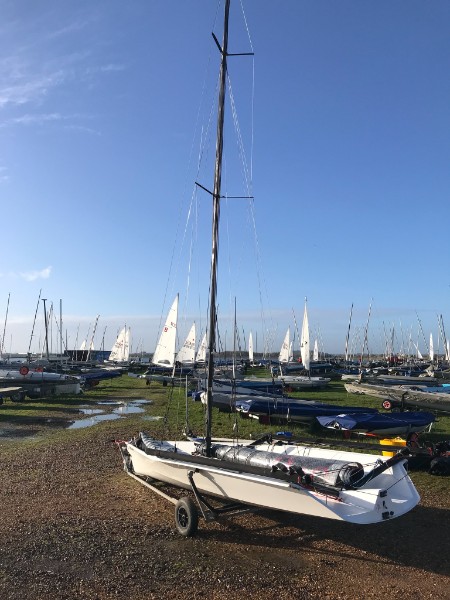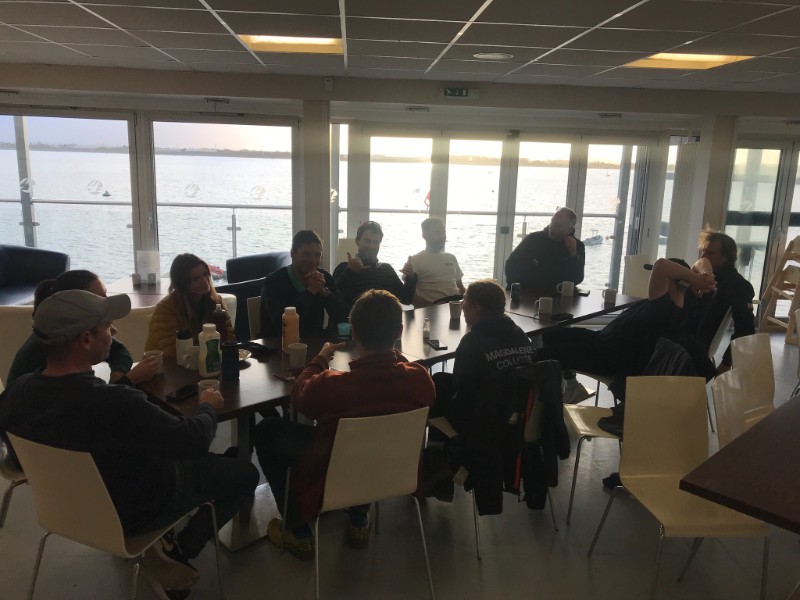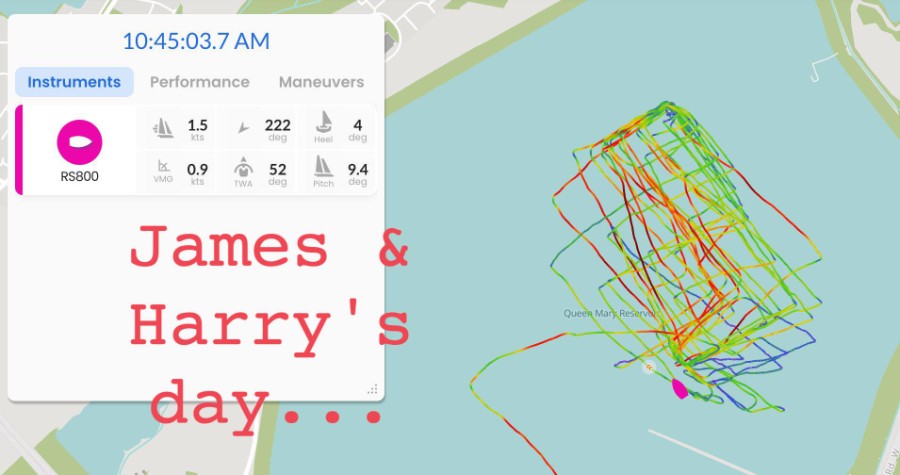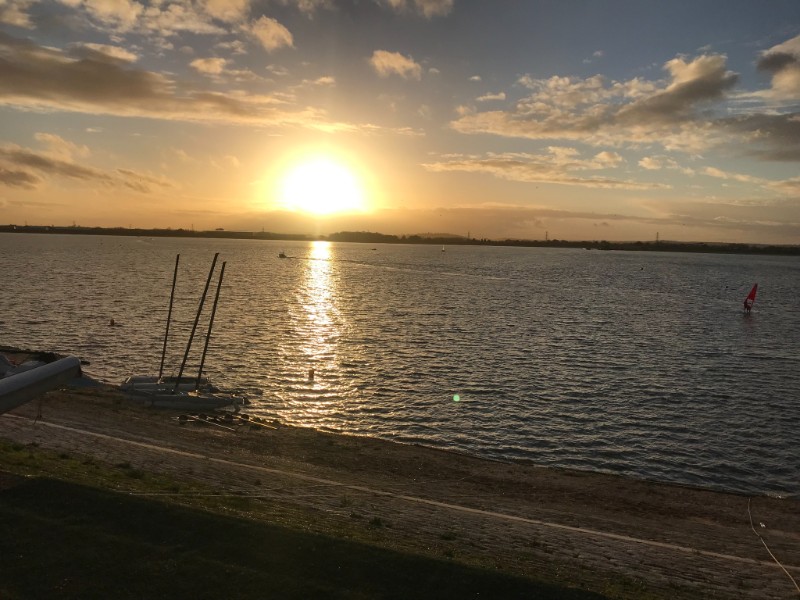 RS800 Development Day at Queen Mary Sailing Club Sun 20 Nov 22
Sunday 20th November saw seven RS800s hit the water for the latest class development day at Queen Mary Sailing Club.
Most really good things have queues. Festivals, theme parks and now RS800 Development Days. I doubt Sunday morning club racing at QMSC has ever seen such an eager jostle of boats outside the club gates but this is the sight that greeted me as I rolled up.
Once in, the RS800 fleet quickly rigged - giving quick pointers here and there for teams that needed a bit of advice on set-up. Quite inexplicably, Josh Poat and Hattie Field turned up and found that they had snapped their forestay on the drive over. Whilst we all deeply questioned their driving technique the sailors rallied and before they knew it they had acquired a whole new boat (many thanks Dan Goodman!!).
Despite being flapjack-less for this particular Dev Day, Anna Prescott was still able to lure the fleet over for a quick briefing on how the club racing worked, how to best launch down the steep sides of the lake and the post-race plan. We were on!
Out on the racecourse it was clear that as the large puffs rolled down the reservoir you could be 20 metres above or below another boat and find yourself in a completely different wind direction or strength. So absolutely classic Queen Mary basically and also extremely good practice! The conditions also kept the racing very tight and exciting. In race one it was Claire Lasko and Ed Dyer who seemed to be getting everything right and looked to be holding off Rob Gullan and Hugh Shone, and Bryan Ormond and Anna Prescott. They most definitely deserved the bullet but missed out on the last gust on the last run to be overhauled by Rob and Hugh in the final moments. It was a very impressive performance from Claire and Ed who have had very little time in the boat recently. As Ed put it…
"we had a great time blowing off the cobwebs. Having not sailed together for a while, we were a bit wobbly. Getting out there for the race and we were surprisingly happy with our upwind modes (and if Rob and Hugh don't say it, we beat them to every mark apart from the finish!). But windward mark exits and downwind speed were our downfall. Definitely an area for us to spend some time planning routines and rehearsing as we look to do more events in 2023. It was definitely worth the trip to QMSC, flat water and 10-16 kts kept the fleet tight plus a chance to catch up with friends in the fleet. After the club racing some self-governed two lap races between the 8s made the most of the glorious afternoon and provided time to experiment a bit more. We'll be there for the next event. A bit of boat work needed to reduce rigging time and make races plus get more tips from the guys at the top of the fleet."
It was also a great effort from the locals, Bryan & Anna who rolled into third. Considering the level of jeopardy with the pulsating breeze and plentiful Lasers to engage with over four busy laps it was amazing to see the top three RS800s fly through the finish only 22 seconds apart! Not far behind and another gaggle of RS800s punched through the line with James Curtis and Harry Phelps in hot pursuit. Again a great effort from James (current holder of the social conch trophy - as if anyone needed reminding) who had moved to the helm for the day and Harry who had not sailed an RS800 before.
Anna, who heads up the RS800 fleet at QM and is also our new training rep, had her own take on the day...
"We had such a great turnout of seven visitor RS800s at QM, which made for some very fun club racing (alongside dodging of Lasers). We arrived to sunshine and a great 10-15 knots, which stuck around all day. The standard gusty and shifty winds, as well as the four lap windward leeward course, made for some amazing close racing with positions changing constantly. We finished up with a great lunch, discussing top tips for bear aways and how to keep twin wiring in marginal lulls. Some great lessons learnt and can't wait for a good turnout at the Bloody Mary at QM in January."
As Anna mentioned, following the very productive three hours of sailing, the teams wined and dined together. Or rather tea'd and burgered. As always it was great to catch up with friends old and new and hear their sailing plans for the water. There were also plenty of discussion points that came out of the day, whether that be downwind speed, tacking technique or again, how the hell do you break a forestay on the A3??
Many thanks to all the boats that joined in and I hope to see you at the next Dev Day. For the next instalments we will be joining in with some handpicked Selden SailJuice Events. I will be putting up a poll shortly to hopefully give the fleet some visibility on who is planning to go to what.
See you soon!
Hugh
Report by Hugh Shone
Up on Y&Y here