Results / Development Day Queen Mary SC - 07/01/2023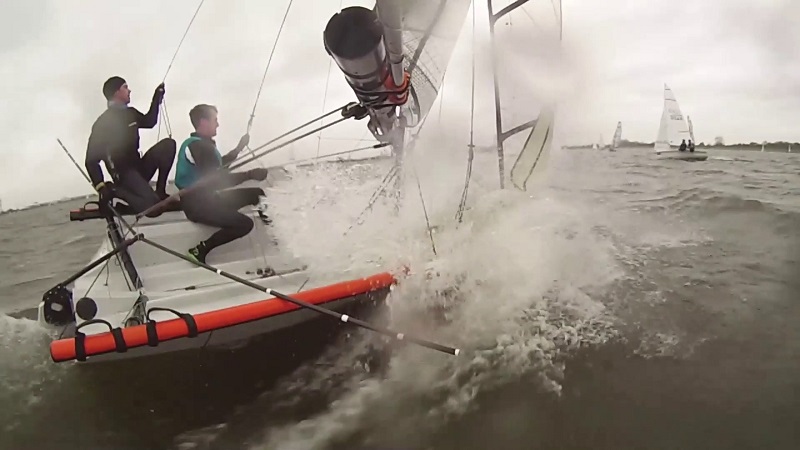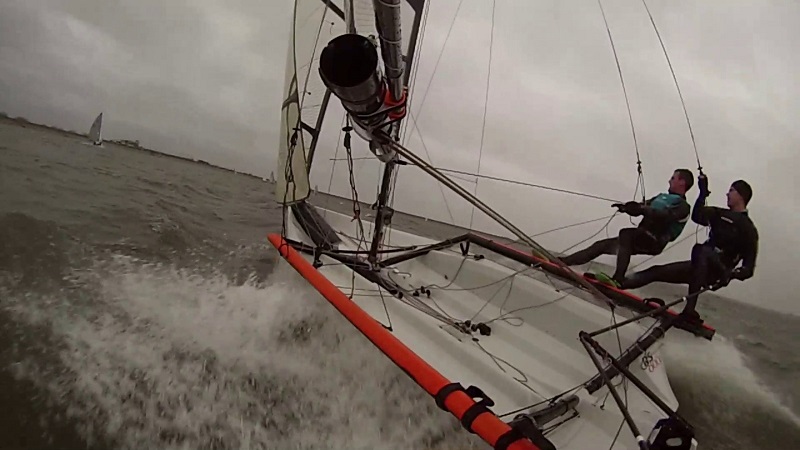 RS800s at the Bloody Mary and Development Day
Fab stills thanks to Ben Palmer. See his vid here
Bloody Mary 2023, Saturday 7th January by Ben Palmer
Well it definitely felt bloody! This year's Bloody Mary definitely lived up to its reputation. A big hats' off to all the sailors who turned up and launched, it would be very easy to have stayed wrapped up at home. It was dark, driving rain with gusts well into the mid to upper 20s. Clearly the sailors thought it was better to get out of the comfort pit and go on an adventure.
Who would have thought? The RS800 had one of the biggest class turnouts for this year with 11 entries matching the Toppers. A true testament to the energy and enthusiasm put in by our committee and chairs!
The Toppers kicked the event off whilst the RS800 crews were sipping tea in the warm clubhouse with a mix of excitement and trepidation (not helped by the fact we were told the water temperature was a balmy 4 degrees). After 62 minutes of action the RS800s were the last start. First challenge was completed as all the teams managed to get off the steep slippery banks and to the start line with no major calamities. Tom Morris and Hugh Shone (1231) and Ben Palmer and Dicken Maclean (1008) lined up for a port approach with the rest on starboard. The port approaches didn't factor in that at 30 seconds to go a massive bunch of boats were coming through the start line having already done one lap. Ben and Dicken almost nosedived on a bare away dodging boats (through the skin of their teeth they got away with it) and Hugh and Tom ended up over the line. Wisdom clearly paid off as Peter Barton and Chris Feibusch were first round the top mark with a good lead over Ben and Dicken.
Claire Lasko and Ed Dyer were the first casualties of boat breakage, after a capsize on the first leg the mainsail pulled out of the track and they called time on their Bloody Mary. On the first lap, Hugh and Tom were on the comeback charge, managing to catch up Rob Gullan and Matt Reid on the first downwind and overtaking Ben and Dicken on a two-sail reach showing how it was done. Unfortunately Peter and Chris nosedived pretty spectacularly on one of the many reaches and let Tom and Hugh and Ben and Dicken past. This is how the order of the top four settled down, with Tom and Hugh with a leg lead over Ben and Dicken with Peter and Chris nipping at their heels.
Now it was the question how many boats could we all overtake? Dicken famously turned to me on one beat with the age-old question of how long to go, when it felt like night-time with driving rain that you could barely see where you were going. Unfortunately the answer was we have only done 45 minutes and have another 45 to go! Luckily Dicken's prayers were answered as after a pretty fruity rain squall (just when we had to bare away) the wind died off. A welcome break! Or so you would think, be careful what you wish for! This rapidly slowed down our overtaking progress and stretched out the fleet. The wind steadily built back up again and with the dying minutes Tom and Hugh managed to get to the front of the fleet.
However the 29er team of James Crossley and Noah Fitzgerald had a pretty un-catchable lead so it was the battle for the minor podium places. Unfortunately due to some confusion on the finish line Tom and Hugh were missed off. The party line is that they were 3rd behind the Musto Skiff of Sam Pascoe. Ben and Dicken finished up 13th or 14th (including Tom and Hugh), Peter and Chris 16th or 17th , Rob and Matt 19th, Bryan Ormond and Anna Prescott 53rd and Cameron and Darrol Moss 88th. Unfortunately Liz Watton and Chris Williams were unable to finish but were heroic in their efforts which included a particularly classy and perfectly executed pitchpole around the start time. That just left getting ashore in one piece and warming up in the club house. Definitely a Wim Hof day as the showers had no hot water!
RS800 Development Day and Taster Sail, Sunday 8th September by Hugh Shone
Those that were staying overnight to take part in the Sunday development day all gathered at the Jolly Farmer pub for a jolly good old time. There was much drama to discuss from the epic day on the water and a team prayer for some sunshine and calmer winds on Sunday was made.
It seemed to have worked when we arrived on Sunday morning. For about 20 minutes it looked like a steady force four and there was some January sun. Once out of the changing room though, things had taken a grey turn. There was a real deja-vu moment standing on top of the slipway ready for the next humdinger of a day.
Two club races were held with the RS800s flying between huge gusts, shifts and rain squalls. It might sound like terrible conditions but it was very close racing and some extremely decent practice. Once the racing was done Dan Goodman kindly ventured out on a rib laden with expectant sailors looking to have a go in the RS800 for the first time. Between Hugh Shone and Joe Bradley we had two boats out there giving joy rides. Again, given the driving rain and sometimes pretty spicy gusts you might think that this had disaster written all over it but no! All those that attended had a really good intro into the boat and were extremely positive with feedback.
Here are some lovely feedback quotes we received:
"Sailing is often more about the people than the boat. I pretty much made my mind up that Alex, my girlfriend, and I are getting an RS800 when a harness was thrust at me and I was told to get on a boat and go sailing. I think there are people that would pay a lot of money for the experience we received, quality sailing with expert sailors and a coach. Great people, great boat."
"We met the RS800 fleet members at the Bloody Mary event and the next day they kindly allowed us to jump on two of their boats with experienced helms. The sensations on the trapeze were incredible!! We then joined for a debrief and everyone answered my questions about the boat and the fleet in the UK. For anyone wanting to get into skiff sailing, I can only recommend this."
"Thanks very much for the ride today, it was amazing! Loved the boat!"
As always, things were bookended with hunks of cake and buckets of tea. Many thanks to all those who made the effort to compete in Saturday's Bloody Mary and to those who helped in the pouring rain on Sunday. Despite the weather's best efforts the RS800 came out on top.
By Ben Palmer and Hugh Shone
The GJW Direct 47th Bloody Mary
Queen Mary Sailing Club
Final Results
Overall
| Rank | Class | SailNo | Club | HelmName | CrewName | GMaster | Junior | Sailability | Lady Helm | R1 | Total | Nett |
| --- | --- | --- | --- | --- | --- | --- | --- | --- | --- | --- | --- | --- |
| 1st | 29er | 18 | HISC | James Crossley | Noah Fitzgerald | | YES | | | 1.0 | 1.0 | 1.0 |
| 2nd | Musto Skiff | 636 | Castle Cove Sailing Club | Sam PASCOE | | | | | | 2.0 | 2.0 | 2.0 |
| 3rd | Fireball | 15144 | Bough Beech SC | Dj EDWARDS | Vyv TOWNEND | | | | | 3.0 | 3.0 | 3.0 |
| 4th | 470 | 889 | Glossop | Paul BROTHERTON | Arran HOLMAN | | | | | 4.0 | 4.0 | 4.0 |
| 5th | 420 | 55854 | Shoreham SC | Joe WARWICKER | Hugo VALENTINE | | YES | | | 5.0 | 5.0 | 5.0 |
| 6th | 420 | 57004 | Upper Thames Sailing Club/Cardiff Bay | Ollie Meadowcroft | | | | | | 6.0 | 6.0 | 6.0 |
| 7th | Laser (ILCA 7) | 211412 | Paignton SC | Ben FLOWER | | | | | | 7.0 | 7.0 | 7.0 |
| 8th | 2000 | 22334 | Thorney Island Sailing Club | Simon HORSFIELD | Katie HORSFIELD | | | | | 8.0 | 8.0 | 8.0 |
| 9th | Contender | 2706 | Datchet Water Sailing Club | Stuart Jones | | YES | | | | 9.0 | 9.0 | 9.0 |
| 10th | N12 | 3543 | Upper Thames/Burghfield | John Meadowcroft | | | | | | 10.0 | 10.0 | 10.0 |
| 11th | RS Aero 7 | 2439 | LTSC/RLymYC | Tim HIRE | | | | | | 11.0 | 11.0 | 11.0 |
| 12th | Musto Skiff | 638 | Castle Cove Sailing Club | Sam BARKER | | | | | | 12.0 | 12.0 | 12.0 |
| 13th | RS800 | 1008 | HISC | Ben PALMER | Dicken MACLEAN | | | | | 13.0 | 13.0 | 13.0 |
| 14th | 2000 | 22548 | - | Jack LEWIS | Morgan SMITH | | | | | 14.0 | 14.0 | 14.0 |
| 15th | RS400 | 1492 | Beaver SC | Ollie GROVES | Martin PENTY | | | | | 15.0 | 15.0 | 15.0 |
| 16th | RS800 | 1219 | Lymington Town SC | Peter BARTON | Chris FEIBUSCH | | | | | 16.0 | 16.0 | 16.0 |
| 17th | Merlin Rocket | 3791 | Parkstone YC | Jon Gorringe | Matt Currell | | | | | 17.0 | 17.0 | 17.0 |
| 18th | RS Aero 6 | 3437 | Papercourt/TLFYC/RNSA | Sam METTAM | | | | | | 18.0 | 18.0 | 18.0 |
| 19th | RS800 | 7 | HISC | Robert GULLAN | Matt REID | | | | | 19.0 | 19.0 | 19.0 |
| 20th | RS Aero 5 | 2071 | Thorpe Bay YC | Sam BLAKER | | | | | | 20.0 | 20.0 | 20.0 |
| 21st | Laser (ILCA 7) | 216239 | Great Moor Sailing Club | Jamie BLAKE | | | | | | 21.0 | 21.0 | 21.0 |
| 22nd | RS200 | 1700 | Parkstone YC | Ben WHALEY | Lorna GLEN | | | | | 22.0 | 22.0 | 22.0 |
| 23rd | Europe | 417 | Stokes Bay SC | Steve COCKERILL | | YES | | | | 23.0 | 23.0 | 23.0 |
| 24th | Osprey | 1382 | Great Moor SC | Roger BLAKE | Iain BLAKE | YES | | | | 24.0 | 24.0 | 24.0 |
| 25th | RS400 | 1528 | Queen Mary Sailing Club | Christopher EAMES | Rachel TILLEY | | | | | 25.0 | 25.0 | 25.0 |
| 26th | 29er | 2507 | WPNSA | Amelie HISCOCKS | Simon HISCOCKS | | YES | | Yes | 26.0 | 26.0 | 26.0 |
| 27th | RS400 | 1385 | Gurnard SC | Jim Downer | Jono Price | | | | | 27.0 | 27.0 | 27.0 |
| 28th | RS Aero 7 | 1544 | Queen Mary Sailing Club | James WITTS | | | | | | 28.0 | 28.0 | 28.0 |
| 29th | RS300 | 520 | Stokes Bay & Emsworth Sailing Club | Charlie SOUTH | | | | | | 29.0 | 29.0 | 29.0 |
| 30th | Laser Radial (ILCA 6) | 212008 | Queen Mary Sailing Club | Samantha EDWARDS | | | | | Yes | 30.0 | 30.0 | 30.0 |
| 31st | Laser Radial | 194130 | QMSC | Tom Nash | | | | | | 31.0 | 31.0 | 31.0 |
| 32nd | 29er | 2696 | Herne Bay Sailing Club | Michael DYER | Samuel DYER | | | | | 32.0 | 32.0 | 32.0 |
| 33rd | RS Aero 5 | 1930 | Silver Wing Sailing Club | Joe SLIPPER | | | | | | 33.0 | 33.0 | 33.0 |
| 34th | Hadron H2 | 145 | Bowmoor Sailing Club | Richard LEFTLEY | | | | | | 34.0 | 34.0 | 34.0 |
| 35th | RS400 | 1532 | Warsash SC | Steve NORBURY | Andy HILL | | | | | 35.0 | 35.0 | 35.0 |
| 36th | Laser Radial (ILCA 6) | 183153 | Queen Mary Sailing Club | Matthew FLETCHER | | | | | | 36.0 | 36.0 | 36.0 |
| 37th | Laser (ILCA 7) | 217429 | Queen Mary Sailing Club | Guy NOBLE | | YES | | | | 37.0 | 37.0 | 37.0 |
| 38th | Laser 4.7 (ILCA 4) | 214935 | Island Barn RSC | Bjorn HANDLEY | | | YES | | | 38.0 | 38.0 | 38.0 |
| 39th | Laser Radial (ILCA 6) | 220777 | Queen Mary Sailing Club | Mark SANCKEN | | YES | | | | 39.0 | 39.0 | 39.0 |
| 40th | Hadron H2 | 105 | Queen Mary Sailing Club | Tim GARVIN | | | | | | 40.0 | 40.0 | 40.0 |
| 41st | Laser (ILCA 7) | 214415 | Queen Mary Sailing Club | Chris ELLYATT | | YES | | | | 41.0 | 41.0 | 41.0 |
| 42nd | RS Aero 5 | 0 | Maidenhead SC | Sammy ISAACS-JOHNSON | | | | | | 42.0 | 42.0 | 42.0 |
| 43rd | Topper | 48733 | Island Barn RSC | Piotr TOKAJUK | | | YES | | | 43.0 | 43.0 | 43.0 |
| 44th | Europe | 412 | Stokes Bay SC | Jeremy HARTLEY | | | | | | 44.0 | 44.0 | 44.0 |
| 45th | Laser (ILCA 7) | 209265 | Queen Mary Sailing Club | Michael HICKS | | YES | | | | 45.0 | 45.0 | 45.0 |
| 46th | Topper | 47028 | Island Barn RSC | Leah MAY | | | YES | | Yes | 46.0 | 46.0 | 46.0 |
| 47th | Solo | 5693 | Papercourt SC | Fraser HAYDEN | | | | | | 47.0 | 47.0 | 47.0 |
| 48th | RS Aero 6 | 3661 | Lee-On-Solent SC | Graham TRIBBECK | | | | | | 48.0 | 48.0 | 48.0 |
| 49th | Topper | 47862 | Island Barn RSC | Rory CLOW | | | YES | | | 49.0 | 49.0 | 49.0 |
| 50th | Europe | 331 | Weston SC | Ben HARRIS | | | | | | 50.0 | 50.0 | 50.0 |
| 51st | RS Aero 5 | 1006 | Maidenhead SC | Sophie STOCKTON | | | | | Yes | 51.0 | 51.0 | 51.0 |
| 52nd | Musto Skiff | 568 | Queen Mary Sailing Club | Griff TANNER | | | | | | 52.0 | 52.0 | 52.0 |
| 53rd | RS400 | 1399 | Queen Mary Sailing Club | Richard GRAY | Jon DYAS | YES | | | | 53.0 | 53.0 | 53.0 |
| 54th | Laser 4.7 (ILCA 4) | 157517 | Spinnaker Sailing Club | Thomas MUSSELWHITE | | | | | | 54.0 | 54.0 | 54.0 |
| 55th | RS400 | 1505 | Chichester Yacht Club | Jack HOLDEN | Robert HENDERSON | | | | | 55.0 | 55.0 | 55.0 |
| 56th | RS200 | 1331 | Queen Mary Sailing Club | Arthur HENDERSON | Livvy BELL | | | | | 56.0 | 56.0 | 56.0 |
| 57th | Blaze | 777 | Island Barn RSC | Douglas CLOW | | | | | | 57.0 | 57.0 | 57.0 |
| 58th | RS Aero 6 | 3032 | Beaver sc | Thomas PENTY | | | | | | 58.0 | 58.0 | 58.0 |
| 59th | Fire | 763 | Burghfield SC | Peter MCFARLANE | | YES | | | | 59.0 | 59.0 | 59.0 |
| 60th | RS Aero 7 | 3042 | Island Barn RSC | Paul HALLIWELL | | | | | | 60.0 | 60.0 | 60.0 |
| 61st | RS200 | 1262 | Parkstone YC | Giles KUSYK | Krystal LAW | | | | | 61.0 | 61.0 | 61.0 |
| 62nd | Finn | 83 | MRSC, CSC | George COLES | | | | | | 62.0 | 62.0 | 62.0 |
| 63rd | Europe | 235 | Stokes Bay SC | Jason BELBEN | | | | | | 63.0 | 63.0 | 63.0 |
| 64th | K1 | 170 | Datchet Water Sailing Club | Ian DUKE | | YES | | | | 64.0 | 64.0 | 64.0 |
| 65th | RS200 | 1635 | Island Barn RSC | Andrew BARNETT | Jo LLOYD | | | | | 65.0 | 65.0 | 65.0 |
| 66th | Laser | 208837 | Netley SC | Julian Pearson | | YES | | | | 66.0 | 66.0 | 66.0 |
| 67th | Scorpion | 2039 | Lymington Town SC | Neville HERBERT | Steve PENFOLD | | | | | 67.0 | 67.0 | 67.0 |
| 68th | Topper | 48974 | Waveney & Oulton Broad Yacht Club | Nathan CLARK | | | YES | | | 68.0 | 68.0 | 68.0 |
| 69th | Graduate | 3025 | Northampton | Isaac MARSH | Alex GIBBONS | | | | | 69.0 | 69.0 | 69.0 |
| 70th | Europe | 389 | HISC | John REES | | | | | | 70.0 | 70.0 | 70.0 |
| 71st | Laser Radial (ILCA 6) | 217035 | King George Sailing Club | Maddie CHILDS | | | YES | | Yes | 71.0 | 71.0 | 71.0 |
| 72nd | RS200 | 1173 | Dwsc/gmsc | Alice DAVIS | Abby HIRE | | | | �Yes | 72.0 | 72.0 | 72.0 |
| 73rd | RS200 | 1001 | Queen Mary Sailing Club | Tom WILLIAMS | Emily WILLIAMS | | | | | 73.0 | 73.0 | 73.0 |
| 74th | RS400 | 1311 | Queen Mary Sailing Club | Michael GORZKOWSKI | Anna DOBSON | | | | | 74.0 | 74.0 | 74.0 |
| 75th | Solo | 3246 | Thames sailing club | Jamie STEWART | Mark State and Olly Slopper | | | | | 75.0 | 75.0 | 75.0 |
| 76th | RS Feva XL | 5454 | HISC | Samuel TONKS | Izzy TONKS | | YES | | | 76.0 | 76.0 | 76.0 |
| 77th | Musto Skiff | 631 | Burghfield SC | Mark COOPER | | | | | | 77.0 | 77.0 | 77.0 |
| 78th | RS Aero 7 | 1585 | Hythe & Saltwood Sailing Club | James EBERLEIN | | | | | | 78.0 | 78.0 | 78.0 |
| 79th | Vortex | 2018 | Rickmansworth Sailing club | Jonathan CARTER | | | | | | 79.0 | 79.0 | 79.0 |
| 80th | RS800 | 1232 | Lyme Regis Sailing Club | Cameron MOSS | Darrol MOSS | | | | | 80.0 | 80.0 | 80.0 |
| 81st | RS800 | 820 | Queen Mary Sailing Club | Bryan ORMOND | Anna PRESCOTT | | | | | 81.0 | 81.0 | 81.0 |
| 82nd | Laser Radial (ILCA 6) | 182477 | Queen Mary Sailing Club | Damian ADIL | | | | | | 82.0 | 82.0 | 82.0 |
| 83rd | Laser Radial (ILCA 6) | 84 | Queen Mary Sailing Club | Rafael MATARAZZO | | | | | | 83.0 | 83.0 | 83.0 |
| 84th | Enterprise | 23271 | Queen Mary Sailing Club | Ben WILDER | Matt JONES | | | | | 84.0 | 84.0 | 84.0 |
| 85th | RS Quest | 1477 | Salisbury Sea Cadets | Andrew MUSSELWHITE | Jordyn BOND | | | | | 85.0 | 85.0 | 85.0 |
| 86th | Osprey | 1291 | HISC | Alex WILLIS | Nick WILLIS | | | | Yes | 86.0 | 86.0 | 86.0 |
| 87th | Enterprise | 22901 | Midland Sailing Club | Paul YOUNG | Nathan MC GRORY | | | | | 87.0 | 87.0 | 87.0 |
| 88th | RS Feva XL | 7890 | Queen Mary Sailing Club | Joanna WALKER | Mhairi MACDONALD | | YES | | Yes | 88.0 | 88.0 | 88.0 |
| 89th | RS600 | 670 | Grafham Water SC | Will RUSSELL | | | | | | 89.0 | 89.0 | 89.0 |
| 90th | Laser 4.7 (ILCA 4) | 216887 | Queen Mary Sailing Club | Max DUGGAN | | | YES | | | 90.0 | 90.0 | 90.0 |
| 91st | Musto Skiff | 86 | Datchet Water Sailing Club | Fred CUDMORE | | | | | | 91.0 | 91.0 | 91.0 |
| 92nd | Topper | 4890 | Queen Mary Sailing Club | Sylvia JEFFERIES | | | YES | | Yes | 92.0 | 92.0 | 92.0 |
| 93rd | Topper | 45436 | Hunts Sailing Club | John Blackman Northwood | | | | | | 93.0 | 93.0 | 93.0 |
| 94th | Topper | 48897 | Queen Mary Sailing Club | Alexander TSOKRIS-WILDMAN | | | YES | | Yes | 94.0 | 94.0 | 94.0 |
| 95th | Topper | 48898 | Queen Mary Sailing Club | Milo ANDERSON | | | YES | | | 95.0 | 95.0 | 95.0 |
| 96th | Fusion Pro with Spinnaker | 1242 | QMSC | Philip Hornsby | | | | | | 96.0 | 96.0 | 96.0 |
| 97th | Topper | 45701 | Hunts Sailing Club | Tabitha Blackman Northwood | | | YES | | YES | 97.0 | 97.0 | 97.0 |
| 98th | Laser 4.7 (ILCA 4) | 32 | Queen Mary Sailing Club | Sobha SANDHU | | | YES | | | 98.0 | 98.0 | 98.0 |
| 99th | Topper | 48901 | Queen Mary Sailing Club | Isobel JEFFERIES | | | YES | | Yes | 99.0 | 99.0 | 99.0 |
| 100th | Topper | 49041 | Queen Mary Sailing Club | Tristan ANDERSON | | | YES | | | 146.0 DNF | 146.0 | 146.0 |
| 100th | Topper | 902 | Queen Mary Sailing Club | Caleb HYNES | | | YES | | | 146.0 DNS | 146.0 | 146.0 |
| 100th | 420 | 57224 | Royal Lymington YC | Noa MOSKOVITCH | Gabs BURLTON | | YES | | Yes | 146.0 OCS | 146.0 | 146.0 |
| 100th | Topper | 41075 | Wembley SC | Robert TIDSWELL | | | YES | | | 146.0 RET | 146.0 | 146.0 |
| 100th | Topper | 44032 | Wembley SC | Solu NGOKA | | | YES | | | 146.0 RET | 146.0 | 146.0 |
| 100th | Topper | 44144 | Hunts Sailing Club | Joshua Blackman Northwood | | | YES | | | 146.0 RET | 146.0 | 146.0 |
| 100th | Topper | 899 | QMSC | Alasdair Harrison | | | YES | | | 146.0 RET | 146.0 | 146.0 |
| 100th | Topper | 49040 | QMSC | Conrad Dyjecinski | | | YES | | | 146.0 DNS | 146.0 | 146.0 |
| 100th | Topper | 2 | Queen Mary Sailing Club | Yana Sharma Jaiswal | | | YES | | YES | 146.0 RET | 146.0 | 146.0 |
| 100th | Musto Skiff | 113 | Maidenhead SC | Ian STONE | | | | | | 146.0 DNS | 146.0 | 146.0 |
| 100th | RS200 | 0 | RTYC | Toby FREELAND | Alejandra GUTIERREZ | | | | | 146.0 DNC | 146.0 | 146.0 |
| 100th | RS800 | 1225 | LLSC | Liz WATTON | Christopher WILLIAMS | | | | Yes | 146.0 RET | 146.0 | 146.0 |
| 100th | RS200 | 609 | Warsash SC | James HOBSON | Tom LEE | | | | | 146.0 RET | 146.0 | 146.0 |
| 100th | RS800 | 1207 | HHSC | Monique VENNIS-OZANNE | John MATHER | | | | Yes | 146.0 DNC | 146.0 | 146.0 |
| 100th | RS Aero 7 | 2748 | Wembley SC | Oliver HICKLING | | | | | | 146.0 DNC | 146.0 | 146.0 |
| 100th | RS Aero 5 | 1561 | HISC | Ed ROLLESTONE | | | | | | 146.0 DNC | 146.0 | 146.0 |
| 100th | Laser (ILCA 7) | 217179 | Queen Mary Sailing Club | Daniel FLETCHER | | | | | | 146.0 OCS | 146.0 | 146.0 |
| 100th | Osprey | 1373 | Poole YC | Richard MARSHALL | Dan MARTIN | YES | | | | 146.0 DNF | 146.0 | 146.0 |
| 100th | Enterprise | 23170 | Burghfield SC | Ann JACKSON | Alan SKEENS | YES | | | Yes | 146.0 DNC | 146.0 | 146.0 |
| 100th | RS Aero 6 | 3345 | Queen Mary Sailing Club | Lorne WHITEWAY | | YES | | | | 146.0 DNS | 146.0 | 146.0 |
| 100th | Enterprise | 23349 | King George Sailing Club | Vincent HOREY | Richard ABENDSTERN | YES | | | | 146.0 DNC | 146.0 | 146.0 |
| 100th | RS800 | 1166 | Restronguet S C | Ralph SINGLETON | Ian MAIRS | YES | | | | 146.0 DNC | 146.0 | 146.0 |
| 100th | Laser Radial (ILCA 6) | 204678 | RYA | Gareth EDWARDS | | | | | | 146.0 RET | 146.0 | 146.0 |
| 100th | RS Vareo | 621 | Emberton Park SC | Luke FISHER | | | | | | 146.0 DNC | 146.0 | 146.0 |
| 100th | Laser Radial (ILCA 6) | 8 | Queen Mary Sailing Club | Oliver WHITFIELD | | | | | | 146.0 RET | 146.0 | 146.0 |
| 100th | Hadron H2 | 156 | Castle Cove Sailing Club | Richard LE MARE | | | | | | 146.0 DNS | 146.0 | 146.0 |
| 100th | RS200 | 974 | Silverwing SC/Queen Mary SC | Adam WICKENDEN | Beatrice SLIPPER | | | | | 146.0 RET | 146.0 | 146.0 |
| 100th | Laser Radial (ILCA 6) | 220041 | Frensham Pond, Stokes Bay | Ian GREGORY | | | | | | 146.0 RET | 146.0 | 146.0 |
| 100th | Musto Skiff | 622 | Stokes Bay SC/ RNSA | Dan VINCENT | | | | | | 146.0 DNF | 146.0 | 146.0 |
| 100th | National 12 | 3530 | Burghfield SC | Graham CAMM | Anya CAMM | | | | | 146.0 DNS | 146.0 | 146.0 |
| 100th | 2000 | 2670 | Erith Yacht Club | Ed SUMNER | Paul GATELY | | | | | 146.0 DNC | 146.0 | 146.0 |
| 100th | RS800 | 1164 | Royal Yacht Squadron | Rupert SYME | James MURPHY | | | | | 146.0 RET | 146.0 | 146.0 |
| 100th | RS800 | 1231 | Swanage Sailing Club | Tom MORRIS | Hugh SHONE | | | | | 146.0 NSC | 146.0 | 146.0 |
| 100th | RS600 | 942 | Warsash sc / Benfleet YC | Bradley FIELD | | | | | | 146.0 DNS | 146.0 | 146.0 |
| 100th | RS800 | 1045 | HISC | Claire LASKO | Edward DYER | | | | Yes | 146.0 RET | 146.0 | 146.0 |
| 100th | Firefly | 2560 | HISC | Alex OGILVIE | Mark Morris | | | | | 146.0 RET | 146.0 | 146.0 |
| 100th | RS200 | 785 | Queen Mary Sailing Club | Andrew WISHART | Nina LUCKMANN | | | | | 146.0 RET | 146.0 | 146.0 |
| 100th | Musto Skiff | 609 | Warsash SC | Peter GREENHALGH | | | | | | 146.0 DNF | 146.0 | 146.0 |
| 100th | Solo | 5805 | Welsh Harp Sailing Club | Mark WOLF | | | | | | 146.0 DNS | 146.0 | 146.0 |
| 100th | Merlin Rocket | 3522 | Desborough sc | James CLANCY | Samuel CLANCY | | | | | 146.0 DNC | 146.0 | 146.0 |
| 100th | 2000 | 22648 | Erith Yacht Club | Jeremy MICHELL | Megan GATELY | | | | | 146.0 DNC | 146.0 | 146.0 |
| 100th | Merlin Rocket | 3684 | Queen Mary Sailing Club | Tom LOW | Ed LOW | | | | | 146.0 DNS | 146.0 | 146.0 |
| 100th | Laser Vago XD DH | 1158 | Queen Mary Sailing Club | Christophe LE LANNOU | Marion LE LANNOU | | | | | 146.0 DNC | 146.0 | 146.0 |
| 100th | RS400 | 642 | Queen Mary Sailing Club | Rory BARR | Aliki BARR | | | | | 146.0 DNC | 146.0 | 146.0 |
| 100th | Merlin Rocket | 3686 | Upper Thames Sailing Club | Kevin ROSE | Emily CHARLES | | | | | 146.0 DNC | 146.0 | 146.0 |
| 100th | RS700 | 1041 | Queen Mary Sailing Club | Simon HAWES | | | | | | 146.0 RET | 146.0 | 146.0 |
Sailwave Scoring Software 2.29.0
www.sailwave.com