Results / Totally Stoked Stokes Bay SC - 29/04/2023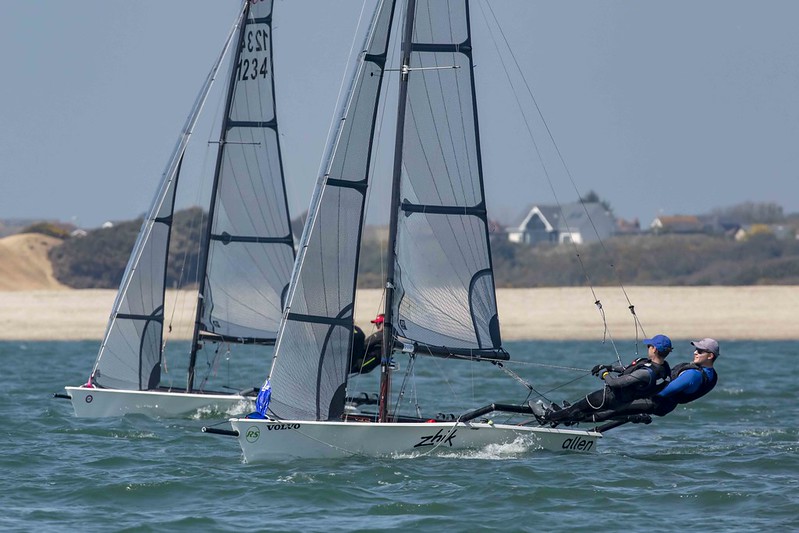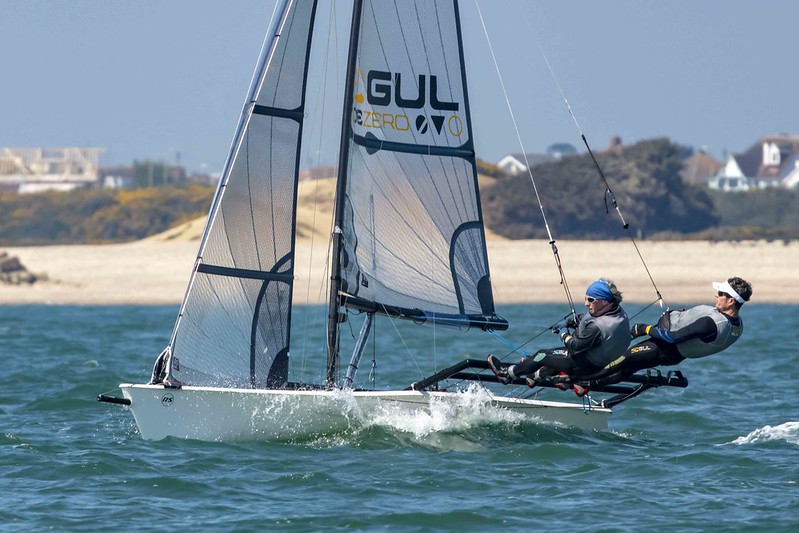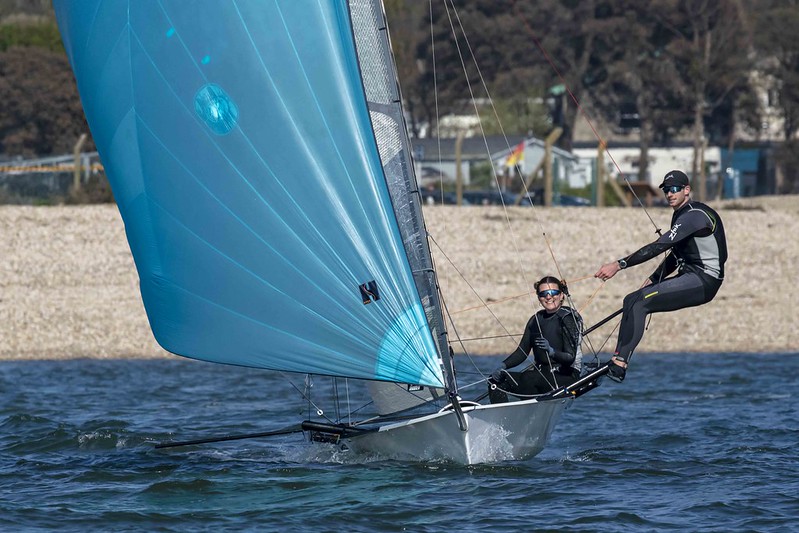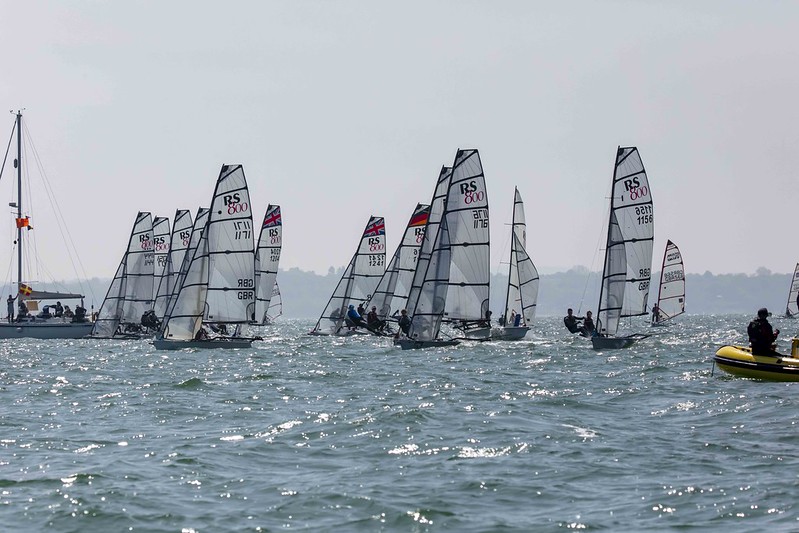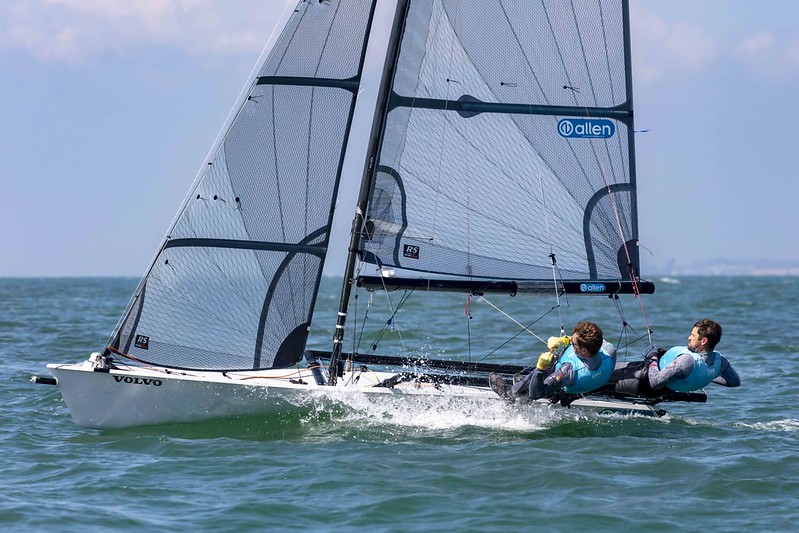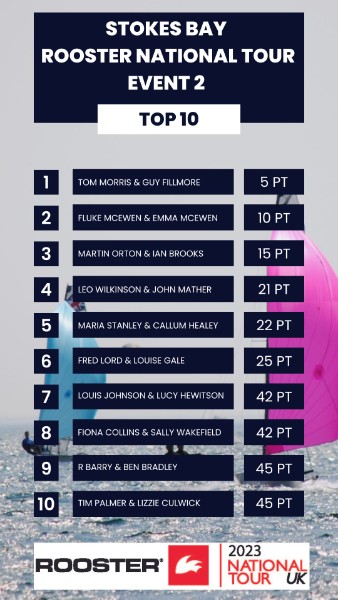 Amazing photo gallery thanks to Tim Olin here
RS800s at Stokes Bay Skiff Open
The weekend of 29-30 April saw thirteen highly enthusiastic RS800s attend the Stokes Bay skiff open meeting for round two of the Rooster National Tour. Anticipation of an upset was relatively high at the start of the weekend: first Tom Morris and Guy Filmore fell foul of the 'plank' and had to move their racks in by two holes – would this upset their perfectly choreographed boat handling (see Mozzy Sails on YouTube) – and second Luke and Emma McEwen announced that they had not sailed much over the Winter.
Saturday's sailing, in sun and winds which offered twin wiring up and downwind, demonstrated that the rest of the fleet would need to be sharper to take advantage of the handicaps faced by the top teams. Tom and Guy showed bursts of exceptional speed and were generally out of sight by the end of each three-lap race. Luke and Emma were slower getting back up to speed but nevertheless sat in second on Saturday evening. Behind them there was an intense battle for third place with two points covering four crews after discard overnight.
Martin Orton and Ian Brooks had led race one but slipped back to fourth before backing this up with a bout of helm incompetence resulting in Ian going through the jib in race two. Using an old jib they were therefore delighted to take second place in the final race of the day. Fighting with them were Leo Wilkinson and super crew John Mather, Maria Stanley and scratch crew Callum Healey, and Fred Lord and Louise Gale.
Of equal importance to the sailing was the winning performance of the RS800 team in Dan Vincent's quiz on Saturday evening. Emma McEwen reported that the team had settled for answering the questions they knew the answers to - no guessing - and had generally felt rather too young for the age of the questions. Nevertheless, good teamwork had prevailed against the single-handed fleets at the event.
Sunday saw hazy sunshine and lighter winds with occasional twin wiring upwind and single wiring downwind. Tom and Guy continued to dominate with three more firsts and Luke and Emma took three seconds, getting closer to the leaders in each race.
Whilst Martin and Ian took three thirds, theirs was a much less dominant set of results with close finishes in each of the two lap races. In race four they held off Leo and John in a drag race to the finish line. In race five it was the turn of Fred and Louise to hound them up the final stretch. In race six Fred and Louise slipped back over the last two legs to be pipped by Leo and John for fourth. Maria and Callum were never able to repeat their second round the windward mark in the first race of the event and therefore faded from contention. Their upwind sailing angles appeared more based on F40 catamarans than RS200s but Maria will have ironed this out by Garda.
The contest at the back of the fleet was no less tight and engaging, with four points covering Louis Johnson and Lucy Hewitson in 7th from Monique and Ollie Vennis-Ozanne in 12th overall.
Thanks to the shore and water-based teams at Stokes Bay Sailing Club who made this a well organised and highly enjoyable event. Thank you to Rooster our National Tour sponsor. Role on Garda at the end of May!
Credit to Timothy Olin for a fantastic set of photos.
Report by Ian Brooks
Up on Y&Y here
RS800 Fleet

Sailed: 6, Discards: 1, To count: 5, Entries: 13, Scoring system: Appendix A

Rank
Fleet
Sail No
Home Club
Name
Crews_Name
R1
R2
R3
R4
R5
R6
Total
Nett
1st
RS800
1144
HISC
Thomas Morris
Guy Fillmore
-1
1
1
1
1
1
6
5
2nd
RS800
1220
Royal Lymington YC
Luke McEwen
Emma McEwen
2
2
-4
2
2
2
14
10
3rd
RS800
1204
Chichester YC
Martrn Orton
Ian Brooks
4
(14.0 DNC)
2
3
3
3
29
15
4th
RS800
1207
HISC
Leo Wilkinson
John Mather
(14.0 UFD)
4
3
4
6
4
35
21
5th
RS800
1234
HISC
Maria Stanley
Calum Healey
3
3
5
5
-8
6
30
22
6th
RS800
1224
Carsington
Frederick Lord
Louise Gale
5
5
-7
6
4
5
32
25
7th
RS800
1171
HISC
Louis Johnson
Lucy Hewitson
8
(14.0 UFD)
8
7
5
14.0 UFD
56
42
8th
RS800
1186
Netley SCa
Fiona Collins
Sally Wakefield
7
7
9
9
12
(14.0 DNF)
58
44
9th
RS800
1176
HISC
R Berry
Ben Bradley
(14.0 UFD)
6
6
13
13
7
59
45
10th
RS800
1087
SBSC
Tim Palmer
Lizzie Culwick
9
8
-11
10
10
8
56
45
11th
RS800
1156
DWSC
Huw Whitworth
Harry Wilson
6
(14.0 DNC)
10
12
9
9
60
46
12th
RS800
987
Hill Head SC
Monique Vennis-Ozanne
Ollie Vennis-Ozanne
(14.0 DNF)
9
12
8
7
10
60
46
13th
RS800
1241
Ullswater
Stephen Brown
Philip Bairstow
10
10
13
11
11
(14.0 DNC)
69
55