Results / RS End of Seasons Regatta and RS300 Inlands Rutland SC - 04/11/2023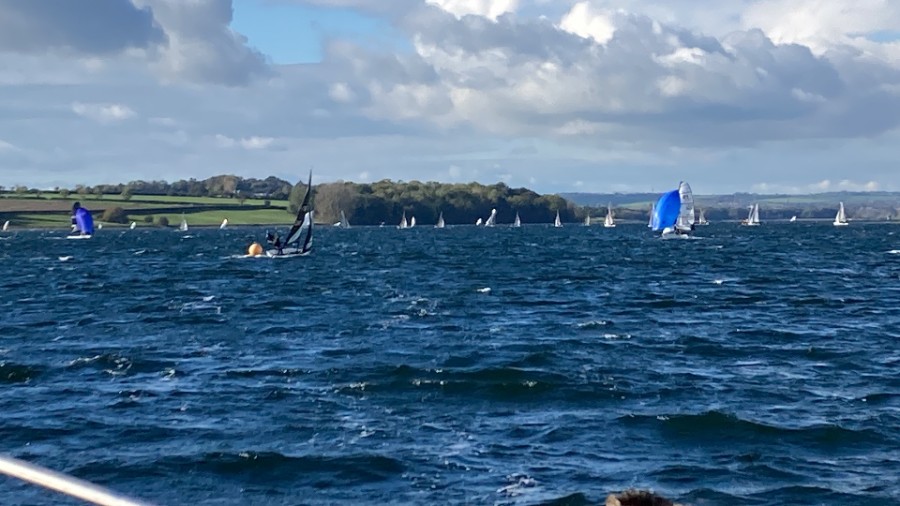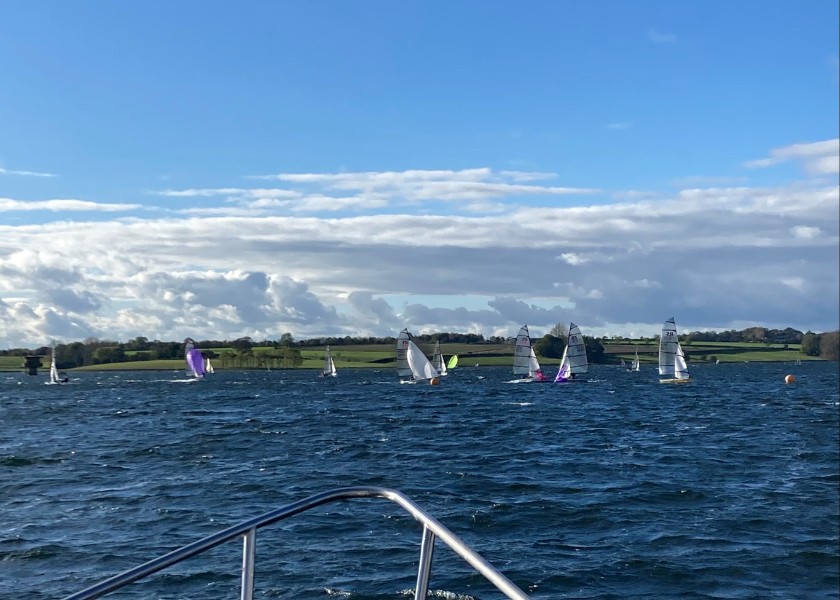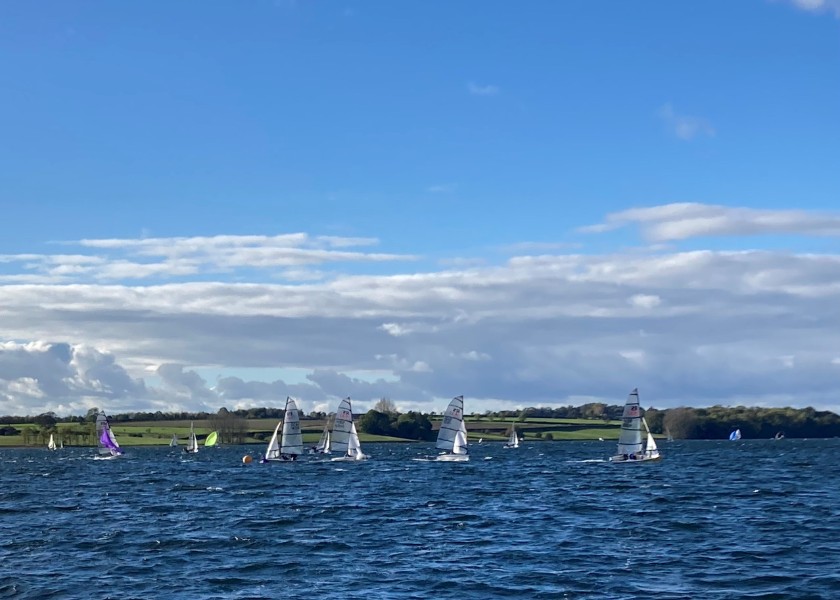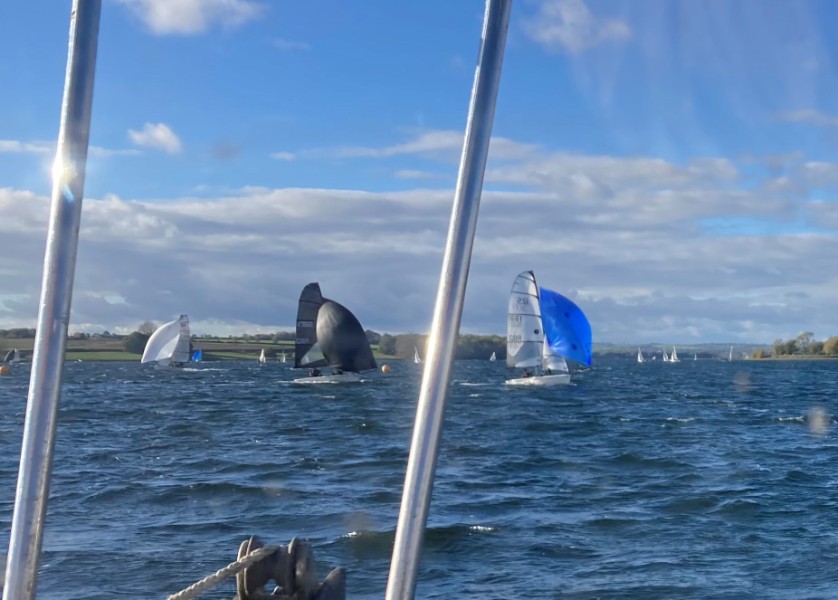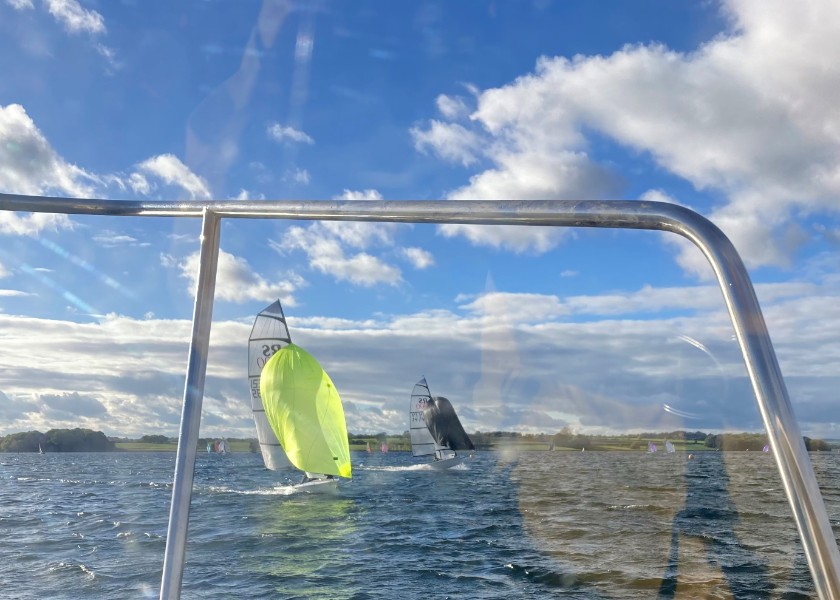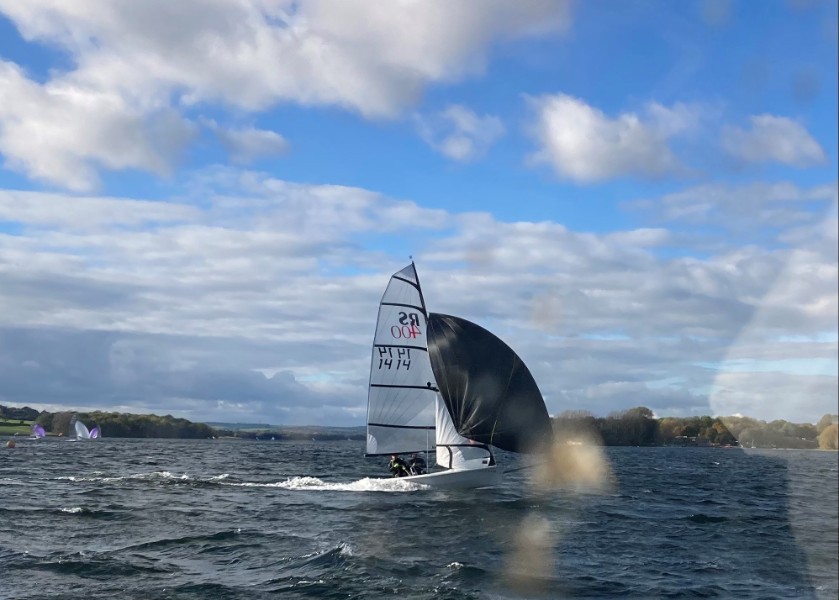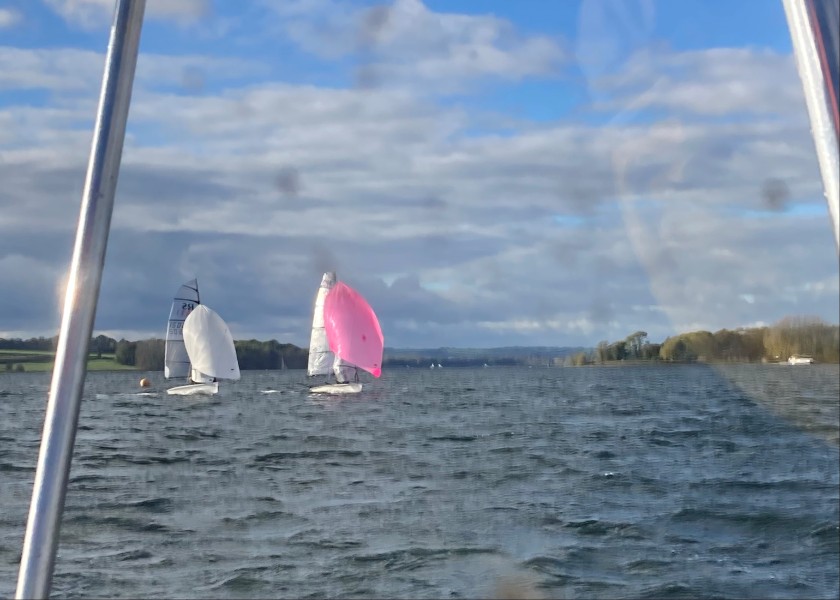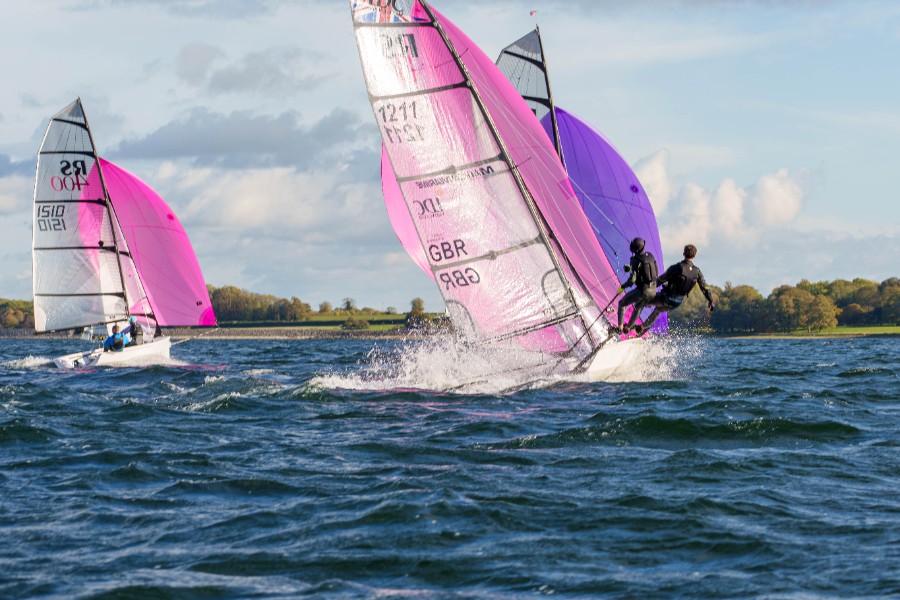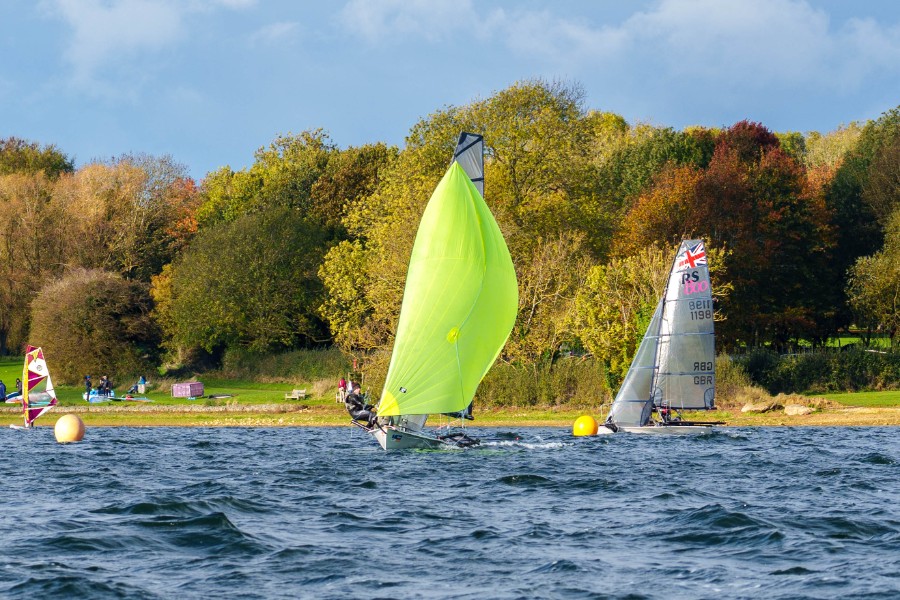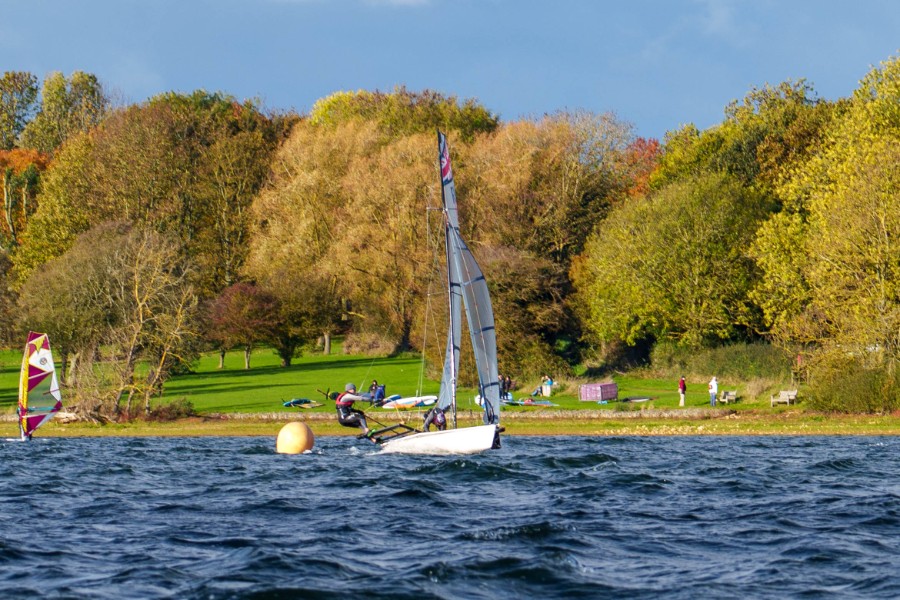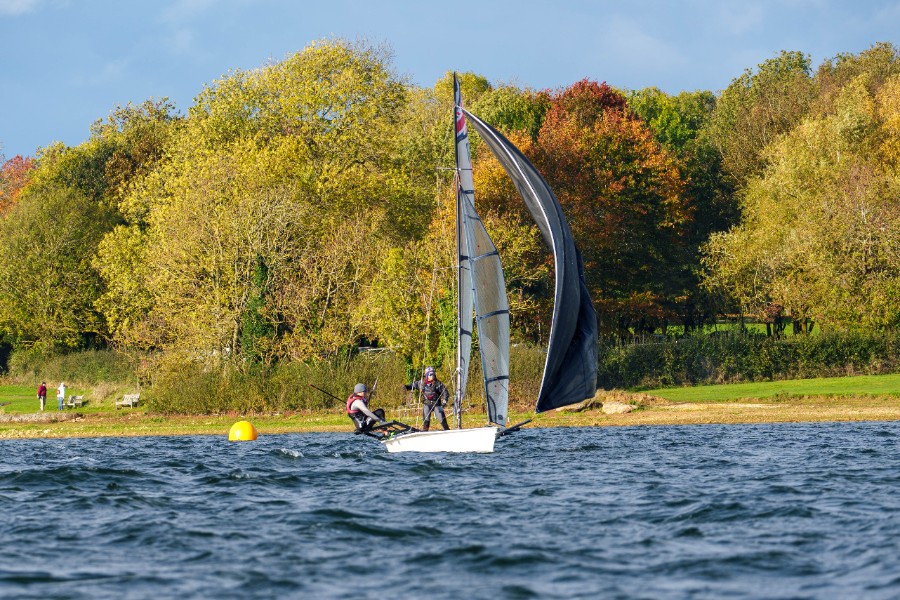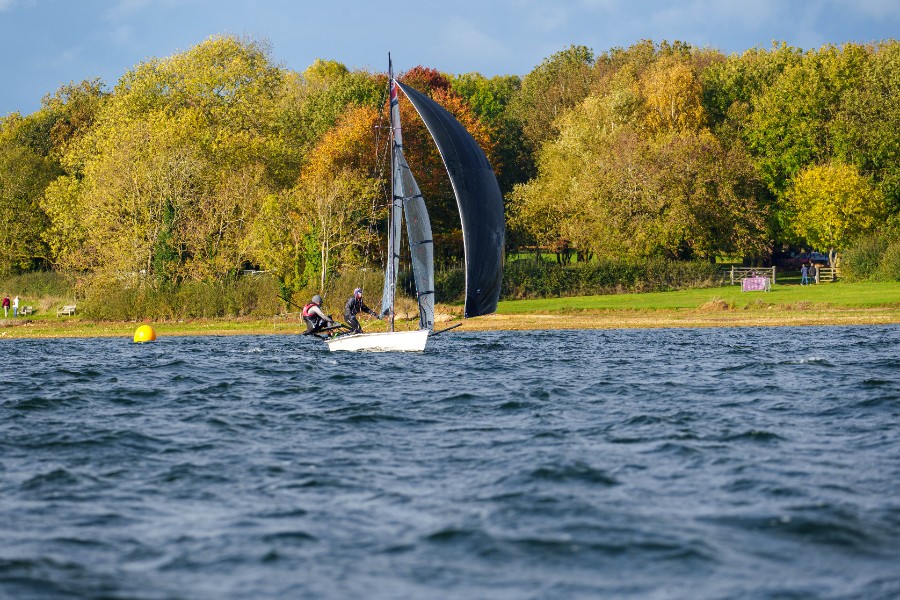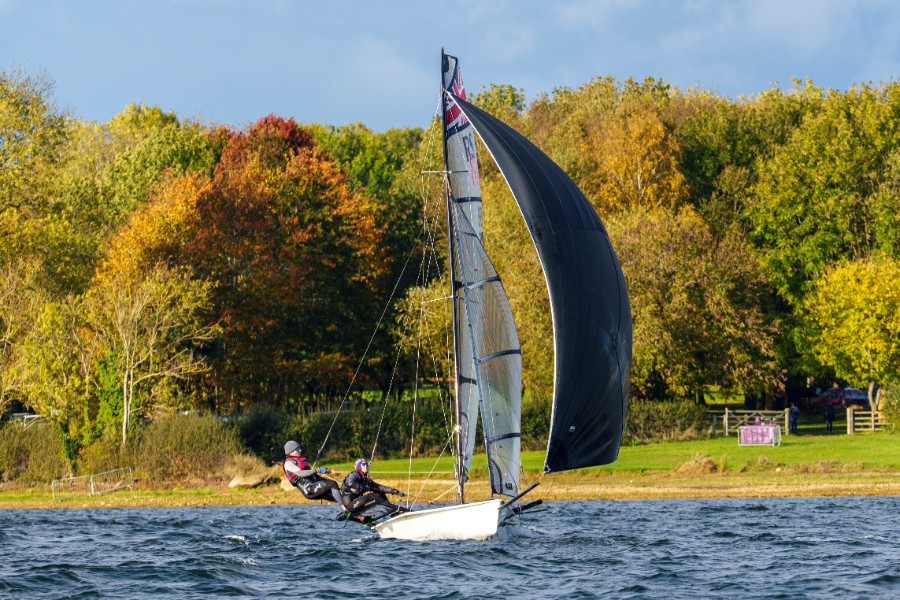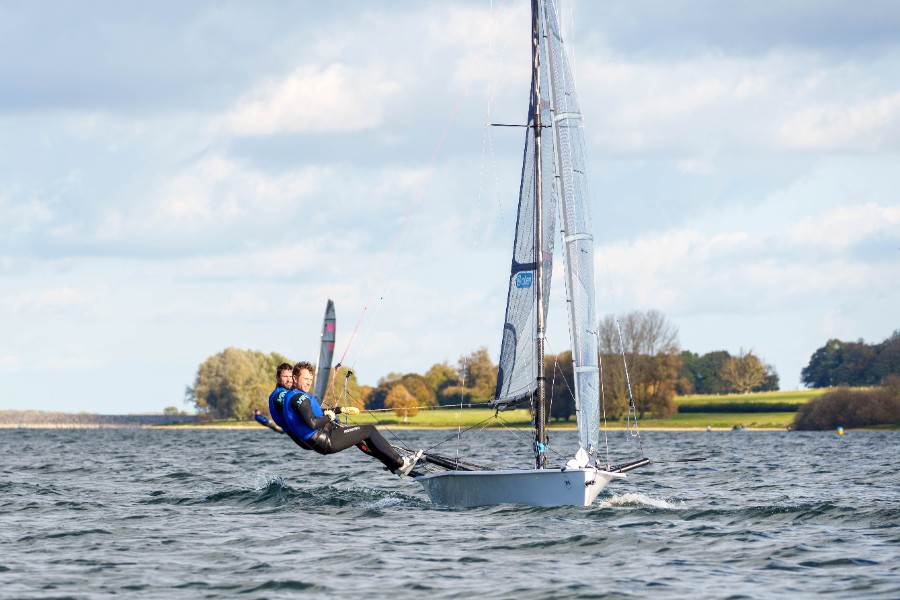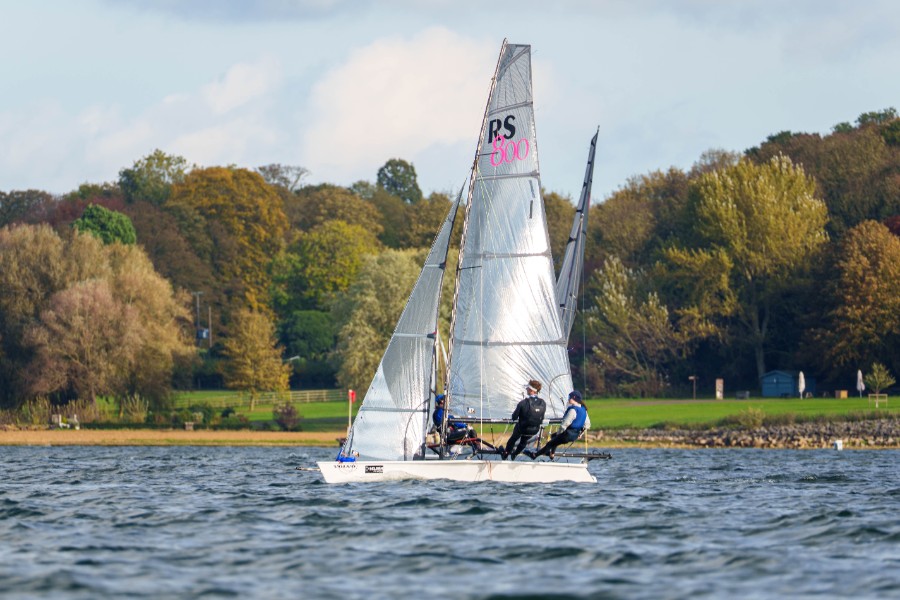 RS End of Seasons Regatta 2023 at Rutland – RS800
It's always sad when a good season comes to an end, but this weekend was a great way to round off the RS800 2023 Rooster Tour. We were also very happy to see lots of 800 sailors from further north, as far away as Glasgow.
Spirits in the fleet were high on Saturday despite incessant drizzle and a biting force 4 from the north-east. Beating up to a short spreader reach tucked right under the dam, the wind was surprisingly steady in direction but there were big upwellings of water from the pumping station, best passed on the windward side, and downwind there were lanes of pressure to be found for those with heads out of the boat. Luke and Emma McEwen took the first race, with Tom Morris and Guy Fillmore getting up to speed in their new boat to win the second one. Monique Vennis-Ozanne and Hugh Shone, having finished a promising second in the first race, didn't shine quite as much as expected when Hugh's trapeze broke in race two. Hugh tied a very unsuccessful granny knot which gave way, tied it again and it snapped. After a trio of refreshing if unwelcome baptisms they sensibly decided to fix it ashore, then broke the scissors and the fid. Hugh suspects foul play but perhaps it was just the rain gods giving them an excuse to retire to the warmth of the clubhouse with a cup of cocoa. Meanwhile Bryan and Anna Ormond had a great second race, trading places with Luke and Emma all the way down the last run.
By the third race the wind had dropped to single wiring upwind, crews on the foredeck downwind. At the windward mark it was all about finding some pressure to escape the pack, successfully executed by Luke and Emma on the left and Tom and Guy heading right, with Joe Bradley and Maddie Kirk leading the rest of the bunch. Our race officer David Rowlands showed great premonition (or perhaps he was just getting hypothermic) and shortened at the end of the first lap. As we reached the beach, the wind died completely.
A long and very convivial evening followed, gradually defrosting our extremities around a cold glass. After several beers and a tasty lasagne it still wasn't even 7pm – it's weird this winter time sailing. To fill the remaining several hours before bedtime, the arch games-meister Hugh Shone laid on a knockout competition of finger-flicking fun with Pucket, "the world's No.1 elasticated board game". It turns out that youth and skill can actually overcome age and treachery, at least onshore. So Monique won the final to regain the coveted Social Conch trophy and its admirably weighty plinth.
On Sunday we were rewarded with bright sunshine and great breeze, maybe a bit too great at times for those who weren't feeling very bright after so many hours in the bar. Michael and Sam Dyer pulled off a stylish "Dyer Flyer," clearing the fleet on port. 29er supremos Rob Mawdsley and Oscar Morgan Harris are also starting to show moments of brilliance in only their second event in the 800. They rolled Hugh and Monique leading an epic downwind just in front of Tom and Guy, before spinning the wheel a bit fast at the leeward gate amongst the carnage of capsized 400s. If Rob and Oscar can iron out the boat handling blips they will definitely be up there in 2024.
Emma was suffering from a recurring shoulder injury so handed the unenviable job of crewing for Luke to Fred Lord, who kindly stepped into the breach for the day - an eventful day indeed with one lost hat, two lost gloves (how did they both fall off in the same gybe?), numerous swims and a broken bowsprit in one of the monster gusts.
Tom and Guy got back into their stride in Sunday's strong wind, hitting 21 knots downwind and winning all three races. Behind them James Penty and Eddie Grayson had an epic dual with Monique and Hugh. The latter dazzled the fleet with their new fluorescent yellow trapeze lines, but were out-dazzled by James and Eddie's fluorescent gloves and kite, giving the Boys from Beaver the edge by a whisker at the last finish line. In the final results, behind Tom and Guy and James and Eddie it couldn't have been much closer, the four-way points tie for third place going to Luke and Emma/Fred on countback. Rooster Tour hats went to mid-fleet heroes Michael and Sam, as well as Stewart and Martin Walker who picked up the well-deserved endeavour prize for finishing all the races.
Huge thanks are due to the race team and volunteers at Rutland SC especially in Saturday's rain, to Rooster for sponsoring the prizes through our whole 2023 tour (more on that in the overall series report) and to all the sailors who made it another great fun weekend of RS800 sailing and chat.
Luke McEwen
Full results for all classes - RS200, RS300, RS400, RS500, RS600, RS800, RS Vareo
Photos thanks to Don Munro and Natalie Smith
RS800 Class
| Rank | Fleet | Boat | Class | Sail No | Club | HelmName | CrewName | Rating | R1 | R2 | R3 | R4 | R5 | R6 | Total | Nett |
| --- | --- | --- | --- | --- | --- | --- | --- | --- | --- | --- | --- | --- | --- | --- | --- | --- |
| 1st | | | RS800 | 1144 | HISC | Tom Morris | Guy Fillmore | | (3.0) | 1.0 | 2.0 | 1.0 | 1.0 | 1.0 | 9.0 | 6.0 |
| 2nd | | | RS800 | 1245 | Beaver SC | James Penty | Eddie Grayson | | 4.0 | (7.0) | 5.0 | 2.0 | 3.0 | 2.0 | 23.0 | 16.0 |
| 3rd | | | RS800 | 1220 | Royal Lymington YC | Luke McEwen | Fred Lord | | 1.0 | 2.0 | 1.0 | 9.0 | 10.0 | (13.0 DNC) | 36.0 | 23.0 |
| 4th | | | RS800 | 1 | Swanage SC | Monique Vennis-Ozanne | Hugh Shone | | 2.0 | (13.0 DNC) | 13.0 DNC | 3.0 | 2.0 | 3.0 | 36.0 | 23.0 |
| 5th | | | RS800 | 1198 | QMSC | Bryan Ormond | Anna Ormond | | (6.0) | 3.0 | 4.0 | 5.0 | 5.0 | 6.0 | 29.0 | 23.0 |
| 6th | | | RS800 | 1176 | HISC | Joe Bradley | Maddy Kirk | | 5.0 | 5.0 | 3.0 | 4.0 | 6.0 | (13.0 DNC) | 36.0 | 23.0 |
| 7th | | | RS800 | 1146 | Herne Bay SC | Michael Dyer | Samuel Dyer | | (10.0) | 6.0 | 8.0 | 6.0 | 4.0 | 7.0 | 41.0 | 31.0 |
| 8th | | | RS800 | 1211 | HISC | Rob Mawdsley | Oscar Morgan Harris | | (13.0 DNC) | 4.0 | 6.0 | 8.0 | 13.0 DNC | 4.0 | 48.0 | 35.0 |
| 9th | | | RS800 | 1099 | Draycote Water SC | Alistair Hodgson | Ella Spain | | 9.0 | (10.0) | 7.0 | 7.0 | 7.0 | 8.0 | 48.0 | 38.0 |
| 10th | | | RS800 | 22 | Yorkshire Dales SC | Stewart Walker | Martin Walker | | (11.0) | 8.0 | 10.0 | 10.0 | 8.0 | 5.0 | 52.0 | 41.0 |
| 11th | | | RS800 | 1182 | Largs SC | David Kelly | Billy Russells | | 8.0 | 11.0 | 11.0 | 11.0 | 9.0 | (13.0 DNC) | 63.0 | 50.0 |
| 12th | | | RS800 | 1225 | Leigh & Lowton SC | Liz Watton | Christopher Williams | | 7.0 | 9.0 | 9.0 | (13.0 DNC) | 13.0 DNC | 13.0 DNC | 64.0 | 51.0 |