RS800 RS800 Rooster National Tour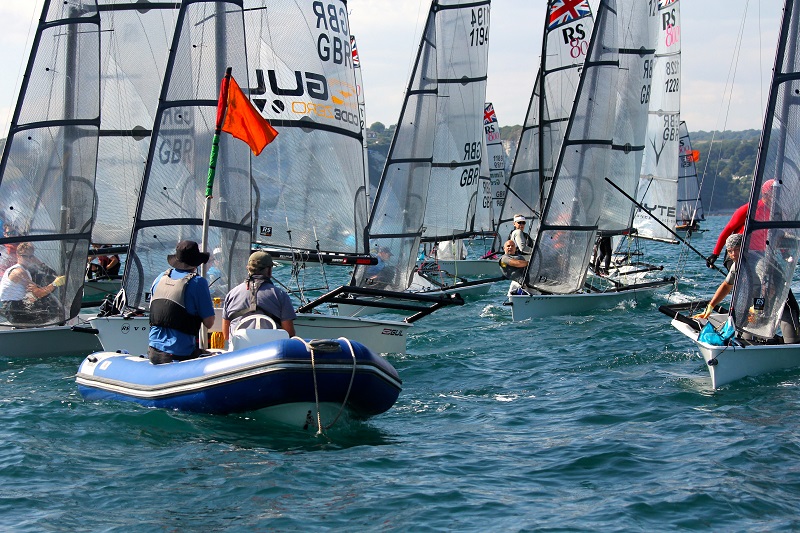 Congratulations to 2019 RS800 Rooster National Tour Champions Luke and Emma McEwen!
2nd: Ralph and Sophie Singleton of Burghfield SC

3rd: Tom Morris and Guy Fillmore of Hayling Island SC
4th: Hugh Shone and Hannah Tattersall of Castle Cove SC
5th: Dan Goodman and Debbie Clark / Rory Hunter of Stokes Bay SC
Very many thanks to Rooster for sponsoring the smashing RS800 National Tour!
2019 is going to be another year of fabulous events. Take a peak at your calendar here
So forty five boats raced on the RS800 Rooster National Tour in 2018! The first event was the Spring Championship at Rutland, number two was Stokes Bay SC, number three was at Datchet Water SC and number four was the Rooster RS Summer Championship at Parkstone YC 23-24 June. The fifth event was Beer SC 14-15 July. Number six was Eastbourne ESC 8-9 Sept. Event seven was the Inlands at Grafham WSC 6-7 Oct. The final event of the year was s the End of Seasons Regatta at Rutland SC 3-4 Nov. The tour comprised 8 events with 5 to count.
Great start line photo of racing at Beer thanks to Stuart Aplin.
Rooster was our generous National Tour sponsor for 2018 awarding three pairs of specially branded aquafleece neck gaiters per event. You could only win a neck gaiter once so the joy of winning was spread right across the fleet. The list of those lucky sailors who won a neck gaiter is in the results table far right column.
Results thanks to Emma McEwen.
| | | | | | | | | | | | | | | | | |
| --- | --- | --- | --- | --- | --- | --- | --- | --- | --- | --- | --- | --- | --- | --- | --- | --- |
| Rank | Sail No | Class | Helm | Crew | Club | Rutland | Stokes Bay | Datchet | Parkstone | Beer | Eastbourne | Grafham | EOS | Total | Nett after 8 | Rooster Prize |
| 1 | 1220 | RS800 | Luke McEwen | Emma McEwen | Royal Lymington YC | 3 | 1 | 2 | 46 | 1 | 1 | 1 | 1 | 56 | 5 | SB 1st |
| 2 | 1166 | RS800 | Ralph Singleton | Sophie Singleton / Rory Hunter | Burghfield SC | 1 | 4 | 1 | 2 | 6 | 4 | 5 | 3 | 26 | 11 | Rutland 1st |
| 3 | 1144 | RS800 | Thomas Morris | Guy Fillmore | Hayling Island SC | 46 | 2 | 46 | 9 | 2 | 46 | 2 | 2 | 155 | 17 | SB 2nd |
| 4 | 1231 | RS800 | Hugh Shone | Hannah Tattersall | Castle Cove SC | 46 | 7 | 4 | 3 | 10 | 46 | 4 | 4 | 124 | 22 | Datchet 4th |
| 5 | 1188 | RS800 | Daniel Goodman | Debbie Clark / Rory Hunter | Stokes Bay SC | 5 | 6 | 5 | 4 | 9 | 6 | 7 | 5 | 47 | 25 | Parkstone 2nd (Rory) Eastbourne 6th (Debbie) |
| 6 | 1204 | RS800 | Martin Orton | Ian Brooks | Chichester YC | 7 | 8 | 7 | 6 | 46 | 8 | 46 | 46 | 174 | 36 | |
| 7 | 1062 | RS800 | Cameron Moss | Darrol Moss | Lyme Regis SC | 46 | 12 | 46 | 8 | 11 | 5 | 6 | 46 | 180 | 42 | Eastbourne 5th |
| 8 | 1189 | RS800 | James Green | Jamie Trewick/Iain Horlock | Beer SC & Exe SC | 46 | 13 | 9 | 14 | 12 | 7 | 46 | 46 | 193 | 55 | |
| 9 | 1194 | RS800 | Joe Joyner | Will Broom | Lyme Regis SC | 2 | 11 | 46 | 14 | 8 | 46 | 46 | 46 | 219 | 81 | Rutland 2nd |
| 10 | 1225 | RS800 | Steve Cockerill | Sarah Cockerill | Stokes Bay SC | 46 | 5 | 3 | 46 | 46 | 46 | 8 | 46 | 246 | 108 | Datchet 3rd |
| 11 | 1219 | RS800 | Peter Barton | Chris Feibusch | Lymington Town SC | 46 | 46 | 46 | 14 | 3 | 46 | 46 | 6 | 253 | 115 | Beer 3rd |
| 12 | 1202 | RS800 | Andrew Blundell | Maddie Fenner | Warsash SC | 46 | 3 | 46 | 10 | 13 | 46 | 46 | 46 | 256 | 118 | |
| 13 | 1128 | RS800 | Ciaran Hurney | Mel Kwan | Oxford SC | 46 | 46 | 46 | 46 | 46 | 9 | 12 | 7 | 258 | 120 | Eastbourne - Mel for 1st time in waves, EOS - Ciaran |
| 14 | 1224 | RS800 | Fred Lord | Louise Gale | Carsington SC | 6 | 16 | 46 | 46 | 46 | 46 | 46 | 8 | 260 | 122 | |
| 15 | 1211 | RS800 | Philip Gladman | Tasha Gladman | Itchenor SC | 46 | 15 | 8 | 11 | 46 | 46 | 46 | 46 | 264 | 126 | |
| 16 | 913 | RS800 | Adrian Howe | Fenella Williams | Oxford SC | 46 | 46 | 46 | 13 | 46 | 46 | 13 | 9 | 265 | 127 | Parkstone |
| 17 | 1228 | RS800 | Andy Jeffries | Alyson Jeffries | Eastbourne Sovereign SC | 46 | 46 | 46 | 46 | 4 | 2 | 46 | 46 | 282 | 144 | Beer 4th |
| 18 | 1203 | RS800 | Tim Gratton | Fiona Hampshire | St Catharines College SC | 46 | 46 | 6 | 1 | 46 | 46 | 46 | 46 | 283 | 145 | Parkstone 1st |
| 19 | 1222 | RS800 | Paul Jenkins | Nick Jerkins / Peter Jenkins | Eastbourne Sovereign SC | 46 | 46 | 46 | 46 | 5 | 3 | 46 | 46 | 284 | 146 | Eastbourne 3rd |
| 20 | 1171 | RS800 | James Penty | Eddie Grayson | Beaver SC | 46 | 46 | 46 | 46 | 46 | 46 | 9 | 10 | 295 | 157 | Grafham 9th |
| 21 | 1215 | RS800 | Stephen Brown | Phil Bairstow | Ullswater YC | 10 | 19 | 46 | 46 | 46 | 46 | 46 | 46 | 305 | 167 | |
| 22 | 1234 | RS800 | Frances Peters | Tom Partington | HISC | 46 | 46 | 46 | 46 | 46 | 46 | 3 | 46 | 325 | 187 | Grafham 3rd |
| 23 | 885 | RS800 | Rory Hunter | Chris Feibusch | Arran YC | 4 | 46 | 46 | 46 | 46 | 46 | 46 | 46 | 326 | 188 | |
| 24 | 1212 | RS800 | Chloe Martin | Suzy Russell | Lymington Town SC | 46 | 46 | 46 | 5 | 46 | 46 | 46 | 46 | 327 | 189 | |
| 25 | 1145 | RS800 | Peter Bromley | Chris Doe | Itchenor SC | 46 | 46 | 46 | 7 | 46 | 46 | 46 | 46 | 329 | 191 | |
| 26 | 1164 | RS800 | Russ Gibbs | Lucy Loughton | Starcross SC | 46 | 46 | 46 | 46 | 7 | 46 | 46 | 46 | 329 | 191 | |
| 27 | 1121 | RS800 | Ben Clegg | Abi Kay | Brightlingsea SC | 8 | 46 | 46 | 46 | 46 | 46 | 46 | 46 | 330 | 192 | Rutland Newcomers |
| 28 | 1043 | RS800 | Chris Dodd | Bryony Meakins | Rutland SC | 46 | 9 | 46 | 46 | 46 | 46 | 46 | 46 | 331 | 193 | |
| 29 | 1158 | RS800 | Ed Norbury | Charlie Hutchings | Warsash SC | 9 | 46 | 46 | 46 | 46 | 46 | 46 | 46 | 331 | 193 | |
| 30 | 1047 | RS800 | Adam Knight | Nico Ozanne | Guernsey YC | 46 | 46 | 46 | 46 | 46 | 46 | 46 | 10 | 332 | 194 | |
| 31 | 1091 | RS800 | Tom Tindal | Joza Cic | Datchet Water SC | 46 | 46 | 10 | 46 | 46 | 46 | 46 | 46 | 332 | 194 | Datchet Newcomers |
| 32 | 1198 | RS800 | Alex Benfield | Nick Ireland | Stokes Bay SC | 46 | 46 | 46 | 46 | 46 | 46 | 10 | 46 | 332 | 194 | Grafham Endeavour |
| 33 | 1216 | RS800 | Richard Clampett | Grace Clark | Stokes Bay SC | 46 | 10 | 46 | 46 | 46 | 46 | 46 | 46 | 332 | 194 | |
| 34 | 825 | RS800 | Peter Curtis | James Curtis | Grafham Water SC | 46 | 46 | 46 | 46 | 46 | 46 | 11 | 46 | 333 | 195 | |
| 35 | 939 | RS800 | Daniel Nickalls | Jack Wardell | Marconi SC | 46 | 46 | 46 | 12 | 46 | 46 | 46 | 46 | 334 | 196 | |
| 36 | 968 | RS800 | Gavin Page | Luke Whyburd | Weston SC | 46 | 46 | 46 | 46 | 46 | 46 | 13 | 46 | 335 | 197 | |
| 37 | 1111 | RS800 | Michiel Geerling | Hilde | WV Braassemermeer | 46 | 46 | 46 | 46 | 14 | 46 | 46 | 46 | 336 | 198 | Beer Welcome to UK Fleet |
| 38 | 1222 | RS800 | John Booth | Alex Benfield | Stokes Bay SC | 46 | 14 | 46 | 46 | 46 | 46 | 46 | 46 | 336 | 198 | |
| 39 | 1230 | RS800 | Christina Handasyde Dick | Andrew Handasyde Dick | Itchenor SC | 46 | 46 | 46 | 14 | 46 | 46 | 46 | 46 | 336 | 198 | |
| 40 | 919 | RS800 | Charlie Elise | Ollie Holmes | Restronquet SC | 46 | 46 | 46 | 46 | 15 | 46 | 46 | 46 | 337 | 199 | |
| 41 | 1087 | RS800 | Tim Palmer | Henry Nelson | Stokes Bay SC | 46 | 17 | 46 | 46 | 46 | 46 | 46 | 46 | 339 | 201 | |
| 42 | 1113 | RS800 | Alastair Shires | Penny Shires | Stokes Bay SC | 46 | 18 | 46 | 46 | 46 | 46 | 46 | 46 | 340 | 202 | SB Endeavour |
| 43 | 1196 | RS800 | Andy Smith | Chris Saunders | Stokes Bay SC | 46 | 20 | 46 | 46 | 46 | 46 | 46 | 46 | 342 | 204 | |
| 44 | 985 | RS800 | Nick Van Tienen | Larry Lawrence | Stokes Bay SC | 46 | 21 | 46 | 46 | 46 | 46 | 46 | 46 | 343 | 205 | |
| 45 | 1146 | RS800 | Jason Kirk | Matt Atkins | Stokes Bay SC | 46 | 22 | 46 | 46 | 46 | 46 | 46 | 46 | 344 | 206 | |